The popular animated series Adventure Time turns to screens, as the game based on the series is now available for your Android device! If you're familiar with the Cartoon Network's hit series, you'll jump right into the game, because the Adventure Time Puzzle Quest fashions its style beautifully.
Although Adventure Time Puzzle Quest might not be as difficult as some other, similar games, providing you with a couple of cheats is always helpful. Let us therefore go through the eight cheats, tips and tricks that will benefit you to experience the game more fully.
1) Who's Hungry?!
You know how nervous you become when you get hungry? Well, then you will get along with your characters just fine. You should never forget to feed them, since it provides one of the ways of leveling them up.
Just be careful what you feed them with, for each type of food comes with different properties. While some of them, like Perfect foods, can improve the overall power of your characters, others, Demon Heart foods especially, have the properties of increasing your character's health and attacking ability.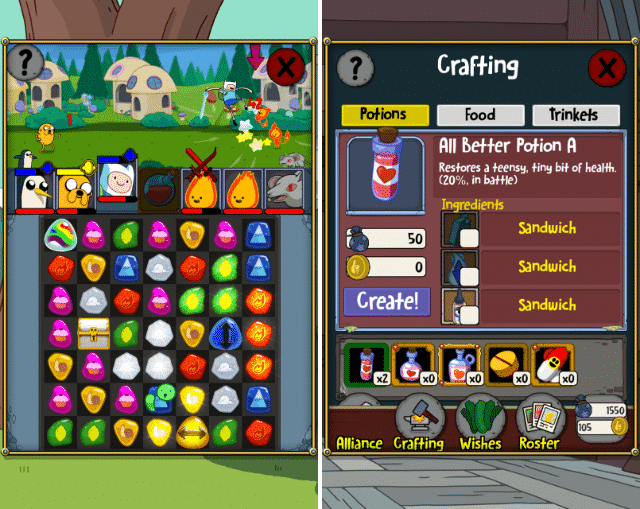 2) Hero Coins Are the Order of the Day
Who's your favorite character from Adventure Time? You can unlock and recruit him or her by using Hero Coins!
Besides Magic Dust, the main currency Adventure Time Puzzle Quest uses are the Hero Coins. These are used for unlocking new and exciting characters. Besides Finn and Jake, all of the other favorites from the Adventure Time series are here, including Flame Princess, Princess Bubblegum, Icy King, Lumpy Space Princess, and Cinnamon Bun among others.
3) Focus on Special Abilities
The simple combat in Adventure Time Puzzle Quest works by matching the colors on the board, but the more subtle fighting begins with special abilities. You may be tempted to fire an attack as soon as you're ready to do so, but we would advise against it. Try instead to unlock special abilities by matching more colors on the screen and your attacks will serve a devastating damage to the enemies.
Just wait until the special ability meter fills up and unleash your wrath!
4) Is It Attack? No. Special Abilities Maybe? No. Is It Combo?! Yes!
The best way to clear the stage however is if you use lots of combo moves. Be very careful of how you make the best of them though, you might want to consider saving the most powerful combos for really tough enemies. There are quite a few of them.
5) Really Tough Enemies
Remember we've just said that there are some rather powerful enemies in the game? Well, there are. And they're called bosses!
In Adventure Time Puzzle Quest, you should not tackle the boss fights lightly, since these are really hard to kill. But don't worry, we've got you covered! The trick here is to focus your most powerful attacks on these bosses and not spending them on lesser enemies along the way.
It might seem tempting to clear out the minions tagging alongside the boss, but you should focus on the tougher enemy first, and focus on them with your most powerful attack available!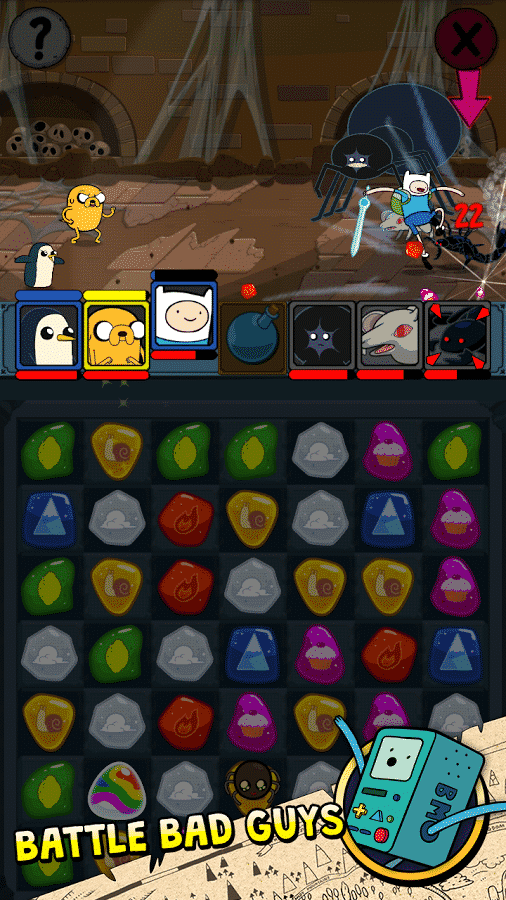 6) Never Shy Away From Replaying the Level
Replaying levels sound boring, doesn't it?
Yet, you shouldn't forget about a level as soon as you've completed it, but return ever so often to check if you've missed any chests. Replaying the level will also bring you more experience points, so it may be worth the trouble.
7) Potions, Potions, Potions!
We can already hear you say: yes, I know, potions are important. But potions have a tendency to be easily forgotten by the players!
Although this may seem an obvious one, we feel compelled to mention it. In long battles, and there are some longish ones in this game, potions are those that can give you the extra edge over your enemies by prolonging your endurance in a combat.
One practical tip here: try to combine Jake's taunt ability with a healing potion. Taunt ability will make Jake the object of all enemy attacks, releasing the pressure from other characters.
8) Make Your Own Weapons
Although Adventure Time Puzzle Quest comes with many weapons you can use in a battle, the game lets you craft your own items as well. This may not be crucial in beating the game, but it speeds it up considerably. There are number of combinations for crafting an item, and if chosen properly, the combinations can create a mighty weapon capable of dealing much more damage to the enemies.
Adventure Time Puzzle Quest Tutorial Walkthrough Video: Ice King Boss Level
Subscribe to Bluez
About Adventure Time: Puzzle Quest
Developer: D3 Go!
Platforms: iOS | Android | Uptodown
Official Wiki
There you go, we did as promised! We have given you the eight tips, tricks and cheats for playing Adventure Time Puzzle Quest. We hope to have inspired you to, after reading the text, take your phone and check some of them out.
If you liked this strategy guide, don't forget to rate and share. Also if you have other Adventure Time Puzzle Quest cheats or tips leave a comment below.