Red, Chuck, Matilda, Terrence, and Stella: are these names familiar to you?
We would be surprised if they weren't, since they belong to some of the most popular characters ever to grace the screens. If they indeed are familiar to you, then you belong to a vast group of Angry Birds fans.
When it originally came out, Angry Birds was hailed as the greatest game ever on Android. It has grown since then, and now it stretches through many games and various platforms which only add to its huge popularity.
But now the time has come for a sequel! Angry Birds 2 is here, and our favorite birds seem angrier than ever!
We'll try to cover many of the cheats, tips and tricks available for this game, so stick with us.
1) Get Familiar with Your Birds
Each of the birds in this game comes with some special ability. Therefore, knowing when to use which bird is essential for making a progress. You can activate these abilities by tapping the screen while the bird is in flight.
While Red's wind blow will come in handy if you face a sturdy structure, Blues is the one to use against ice blocks. Matilda's airborne egg-laying ability is very useful; since it helps you bombard the smaller, well-guarded objects. Chuck can turn into a bullet which provides him the power needed to bring his enemies down.
Be sure to check out all the rest of the special abilities, especially those of the new birds!
2) Rain the Golden Ducks! Wait, what?!
You read correctly, Angry Birds 2 lets you rain the golden ducks on the piggies! Featuring new spell system, the game comes with five spells that you can unlock as you go through the stages. Knowing when to use each spell can be a life-saver.
Besides raining golden ducks, you can turn the blocks into ice, transforming a random pig into a bomb or transforming all of the pigs into exploding balloons!
The last spell is perhaps the most ludicrous of all: it gives you the power to, by throwing sardines into the stage, lure the Mighty Eagle who comes and clears the screen for you.
You might consider saving your spells for when they're really needed.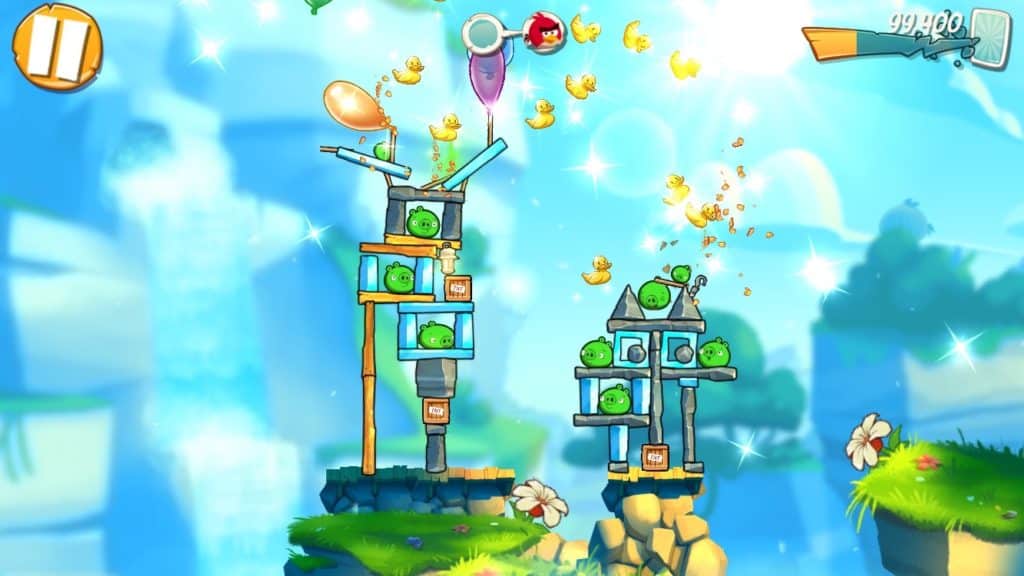 3) Don't Restart! You Heard Me!
If you have played any of the previous Angry Birds game, then you probably don't remember how many times you've reached the restart button.
It was a lot, we know, but you should not do that with Angry Birds 2. Restarting will cost you one precious life that is simply not worth losing.
It is better to follow through the stage even if you had a bad start; you'll learn a lot and return better!
4) Daily Gifts
New items and upgrades are available for you each day and you know what?
They're completely free!
Just remember to return daily to pick them up.
Also, you don't want to miss out on daily quests, for they provide you with some easy-to-get items as well.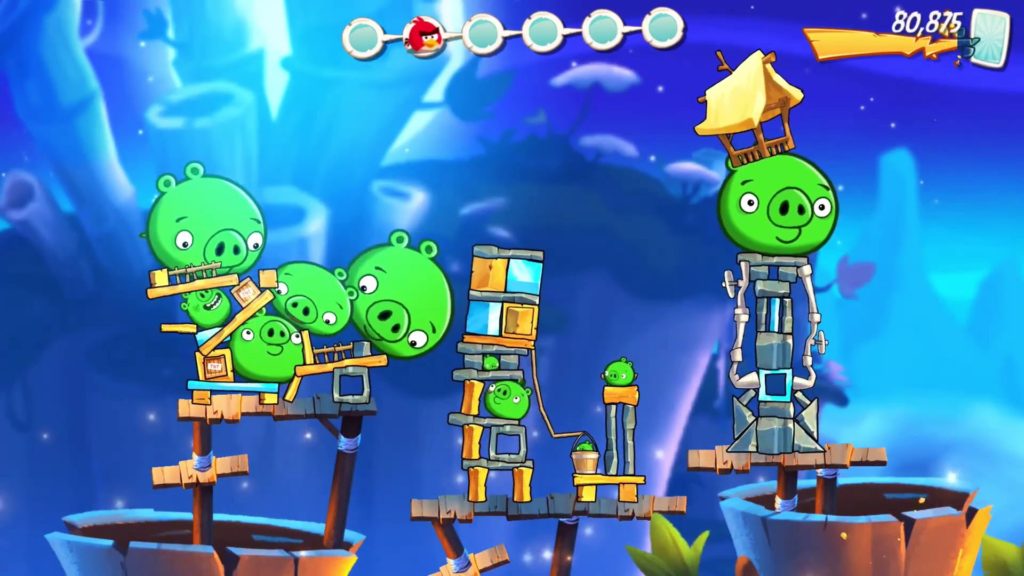 5) A Useful Angry Birds 2 Cheat
If you run out of lives and can't wait for new ones, here we are to help you get on with your game as soon as possible. Just follow this simple cheat and you will be good to go.
Here's what you should do: close the game first, then go to settings on your android device, uncheck automated date and time, and set your clock three hours ahead. This simple trick will provide you with five lives whenever you log into the game and it does not use any third-party program.
Just make sure that you wind the clock back after you have picked up the new lives.
6) Get to Know Your Environment – And Make The Most of It!
Angry Birds 2 makes use of different environmental settings. Using these to your advantage from the early stages of the game can be a vast boost to how you play it. So for example, you should beware of flowers, for they chew and spit everything that comes their way, including birds, which can help you bring down some difficult structures.
7) Boss Fights
Angry Birds now features new bosses! Just a small piece of advice here: look for environmental opportunities to bring the bosses down.
8) Exchange the Gifts with Your Facebook Friends
If you come across a gift that doesn't suit your needs, you can now give it to your Facebook friends who also play the game.
They will remember this courtesy, and in all likelihood give some of their gifts to you. These might even prove to be more favorable ones, so it's worth employing the habit of gift-exchanging.
Angry Birds 2 Tips, Tricks and Secrets (Video)
Subscribe to CraniumCode
Angry Birds 2 – Gameplay Walkthrough Playlist | Levels 1-100
Angry Birds 2 - Gameplay Walkthrough Part 1 - Levels 1-15! 3 Stars! Feathery Hills! (iOS, Android)
Subscribe to ZackScottGames
About Angry Birds 2
Developer: Rovio Entertainment Ltd.
Official WebSite
That's it! We've done it!
Now it's up to you to take up the game and enjoy the ride.
Following these eight tips and strategies plus the video guides will help you not only become increasingly better at the game, but also make the overall experience of playing more pleasurable.
If you liked this strategy guide, don't forget to rate and share. Also if you have other Angry Birds 2 cheats or tips leave a comment below.