Download Asphalt Nitro on PC (Windows 10, 8.1, 8, 7, XP computer) or MAC APK for Free
When it comes to the smartphones, racing has always been one of the most popular gaming genres. Actually, racing games are probably the ones that have pushed smartphones to their ultimate limits when it comes to the graphics. The games such as Real Racing, Asphalt, Need For Speed, GT Racing etc. have shown us that even on phones, games can look extremely good.
But there are some problems with these games, size, and requirements. I mean it's great for a game to look highly realistic, but that doesn't help us at all if we don't have powerful phones. That's why Gameloft decided to experiment a little bit and make a game that will look really good, but it will be also small size.
And when I say small I mean extremely small. While most of the other racing games take up over 1 GB of space, Asphalt Nitro requires only 25 MB to download and 120 MB after you install it. This is perfect for most of the users who can't afford high-end devices, so they have to settle with the medium or low range ones.
Asphalt Nitro will keep all of the elements that made this series so popular, extremely fast cars, mindblowing stunts and slow motion to capture all of that. You might notice that background graphics aren't that great, but hey, it's a 25 MB game after all.
Gameplay
Just like the previous version, Asphalt Nitro has a pretty simple and straightforward interface. All of the gameplay options are shown on the menu and they're really easy navigable. But the great thing about this game is that it will perform pretty smoothly even on older phones with dual-core processors and only 1GB of RAM.
There is one thing that previous versions of Asphalt had and this one doesn't, driving assistance. Maybe you're an experienced player and you don't need it at all, but we need to keep in mind that there are a lot of new players who haven't encountered with these kinds of games before and they need all the help they can get. That's why Gameloft probably should've kept driving assistance.
When it comes to the cars, Asphalt Nitro offers a massive choice of cars, such as Ferrari, Lamborghini, Bugatti etc. But if you're just starting the game and can't really afford all these luxury models, you are still able to upgrade your vehicle. By doing that, you will notice a really big improvement.
You will be able to upgrade your cars by earning money and buying specific components. If you don't have time to earn money in the game, you can use real life money to buy tokens.
Also, the good thing about Asphalt Nitro is that you won't get bored easily. There are 6 seasons and over 20 competitions in every single season. But, if you prefer Singleplayer mode, there is a Multiplayer one, in which you can compete with people, but in order to do that, you need to have stable internet connection.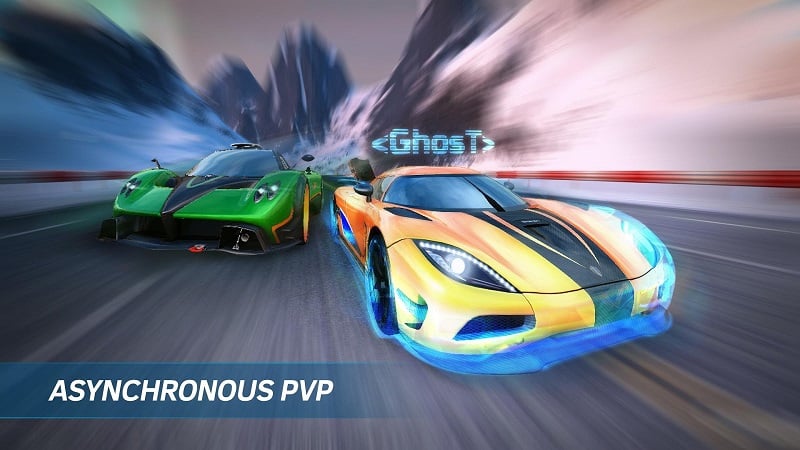 Features
Small size
Luxurious cars
Great graphics
Various maps
Compete against other people
Earn money and upgrade cars
System Requirements
In order to play Asphalt Nitro, you will need a device with iOS/MAC, Android or Windows OS and more than 120 MB of free space.
How to Download and Play Asphalt Nitro on PC:
Download & Install Bluestacks. Alternatively you can use andyroid or ipadian.
Register new or connect your old Gmail/Google Play account.
Go to search box in bluestacks and type "Asphalt Nitro"
Click "install" button next to the game and wait for the download to complete.
That is it! Enjoy Asphalt Nitro on your desktop/laptop PC!
Asphalt Nitro Trailer
Asphalt Nitro - Launch Trailer : Download Fast. Drive Faster.
About Asphalt Nitro
Developer: Gameloft
Platforms: Android
Official Wiki
If you liked this post, don't forget to rate and share. Also if you can't run Asphalt Nitro on PC/MAC or any other issue, write in the comments below and we'll help you.