One of the things we love about games is their enormous diversity. You can race in them, play sports, fight, or you can make your flower beds explode with blossom! If you liked the thought of the last one, then the new King's match-3 puzzler Blossom Blast Saga is the game you shouldn't miss!
With four different gaming modes and tons of levels (120 of them) for you to enjoy through, having an extra hand during your playthrough can definitely come in handy. And that's where we come in! Just sit back, and rely on us to deliver the 8 tips, tricks, and cheats for playing Blossom Blast Saga!
1) Don't Dare Rushing It
First and foremost, don't forget to consider your next move carefully when playing this game! There's no time limit to your moves, so you're free to think twice before you commit to a decision.
What actually is limited is the number of your moves – precisely the reason why you'd want to make the most out of them.
This tip is not very useful when it comes to a first few levels, but you'll thank us later when the stages become increasingly more complicated.
Mark our words!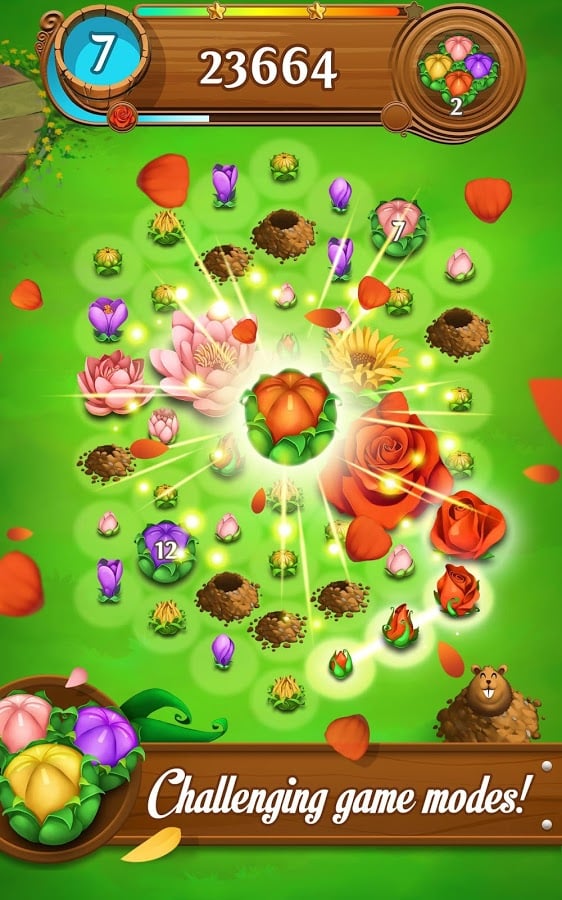 2) The Most Important Flower
You didn't rush and you devised your next move meticulously. Good. Now think some more!
Why do we urge this much thinking? Because it should never slip your mind that the last flower from the chain is the one that will eventually bloom. Therefore, in addition to making your chain solid, try to position the last flower so that, upon blooming, it affects the most buds possible.
3) Pay Attention To The Bloom Meter
Flower is a curious being; it blossoms when it feels like it. But it's not so in this game.
There's a bloom meter featured in the game to tell you exactly when a bud will bloom. Use it wisely.
4) Play Big
However strong an inclination towards a small quick blooming might be, resist it!
There's a general rule in playing match-3 games to which Blossom Blast Saga is no exception. This rule states that you should always go for the big strands of buds rather than satisfy with the small ones.
And if you can make those big strands blossom in the middle of the screen, then there's really no end to your blooming power!
A note to add here: matching bigger chains will result in using fewer moves, which may in turn dramatically increase your score by adding some bonus points to it.
5) Aim For The Mega Blooms
Playing it big has even more good sides to it; besides providing a sheer pleasure of widespread blooming, it will also give you a chance to perform a powerful mega bloom!
Right before a mega bloom is possible the strannds of buds will shake with energy that, once unleashed, creates a lot of space for the new flowers.
Very few things can match the score you get from these mega blooms, making them indispensible when it comes to getting the much adored three stars!
6) Pots Are Your Enemy
The perfect garden to see in Blossom Blast Saga is the one filled only by the flowers in their different stages of maturity. So whenever you spot a pot lurking in a flower bed, you should know that it is there to undermine the perfect harmony of your garden!
So what you should in that case? Well, undermine the pots, of course!
Try blooming a flower adjacent to the pot you'd like to destroy. And do it quick, since pots are usually placed between you and the objective you're after.
7) Bring Down The Countdowns
As you progress through the stages, you'll eventually encounter, and be asked to bloom besides the countdown buds. But, as you've probably guessed, these are not the problem if you know how to deal with them.
The trick is to reduce the countdown by dragging a few buds of the same color into the countdown bud.
8) Connect And Get Lives
Blossom Blast Saga goes beyond the limits of your screen, as it provides you to the connection with your Facebook account and sharing the game with your friends.
There's more than one merit to connecting your account, but one in particular stands out from the rest – the possibility to get extra lives from other players!
But don't be selfish and return the favor every once in a while. Because trust us; you're going to need those extra lives!
Blossom Blast Saga Android/iOS Gameplay First Impression
BLOSSOM BLAST SAGA (iPhone Gameplay)
About Blossom Blast Saga
Developer: King.com Limited
Official Website
These 8 tips, tricks, and cheats are all we have prepared for Blossom Blast Saga. And now please excuse us; we must go and play the game some more!
If you liked this guide, don't forget to rate and share. Also if you have other Blossom Blast Saga cheats, tricks or strategies, share them in the comments.