Download Dan The Man for PC (Windows 10, 8.1, 8, 7, XP computer) or MAC APK for Free
Having been successful with Jetpack Joyride, the developer Halfbrick is back with another amazing game, Dan The Man. Currently, it's one of the top rated games across the major mobile platforms. In this article, we provide you with a detailed step-by-step guide on how to install this brightly colored mobile game to your MAC or Windows 7/8/8.1/10/XP PC. But first, we take a look at everything you would like to know about Dan The Man.
The Game Plot
A village lies in the hand of evildoers. You are expected to customize your hero or play as Dan, Barry Steakfries, super girl, etc, and save the day. Punch and kick your way into 12-action packed stages, sending your enemies flying. Generally, the game involves intense hand-to-hand combat, weapons, boss fights, combo moves, retro pixel-art, secrets to find, etc.
Key Features
1. Electrifying Characters (And Villains)
There are multiple characters to play the game with, and each one of them has their own sets of moves- a nice mix of melee & ranged attacks, grab moves, charge attacks, etc. Not all of these characters are free.
Dan the Man: He's a brave, persistent character who communicates by punching, kicking and jumping. Dan is armed with only his fist and feet (at least at first), but he's ready to challenge an army of evildoers.
Josie: A strong and resistance fighter who's trapped in the castle. Currently, her relationship with Dan is complicated because she thinks he's dead.
The King: Rude, crude and occasionally nude. The king is oblivious to the evil plots hatched in his name and the needs of his people.
The Resistance: Claim to be fighting for the peasants and are always in red ninja masks.
Kings Guard: Loyal brutes well known for oppressing peasants and fighting the resistance.
Geezers: These are two bar buddies, who should probably stop giving out relationship advice and stick to playing pool.
2. Upgrade Weapons
There's a saying that goes, "You can't bring a knife to a gun fight." In Dan the Man, you can't just rely on your lethal limbs, especially when you dive deeper into the chaos. Always remember to upgrade weapons. The game features ridiculously powerful Tier 3 weapons as well as gold skins.
3. Upgrade Skills
Unlike the classical beat-em-up games, Dan the Man lets you upgrade your characters, transforming their basic attacks into brutal blows & combos and adding new moves to their arsenal. You need to collect and grab every coin on offer so that you can use them to upgrade skills and weapons.
4. Multiple Modes
The game features a surprisingly engaging story mode, and when you clear it, two additional modes are unlocked. These are Battle Mode and Endless Survival/ Daily Challenge Mode.
Battle Mode: Offers up a series of arena fights against various foes.
Endless Survival Mode or Daily Challenge Mode: In this mode, you'll be running a set of challenges each day so as to win some awesome rewards.
Each mode has a number of well-designed levels that feature plenty of checkpoints to save your progress. There are also shops along the way, which makes it easy for you to restock your weapons, food, etc. Every time you finish a level, you get a score based on things like secret areas covered & objects smashed, time of completion, the number of enemies defeated, etc.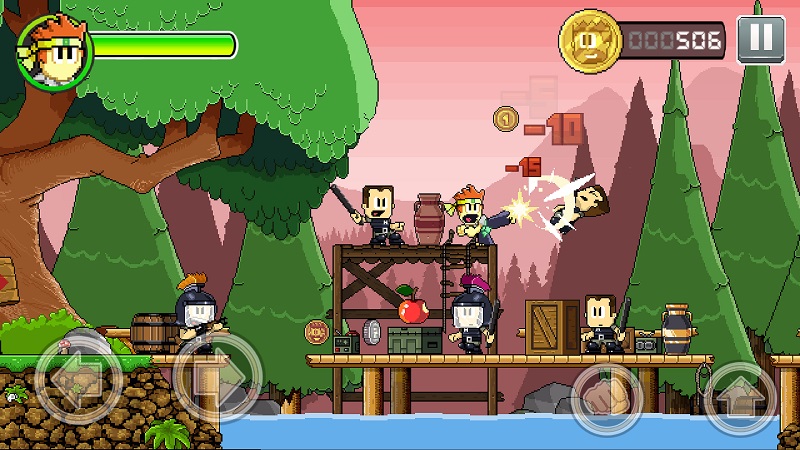 Other Features
Unlockable costumes, secret areas, and daily events keep you on your toes.
It's you vs Crazy Robo-bosses who tests their metal against your mettle.
Kick some bad guys and seek adventure in new areas
The game features retro style controls with support for gamepads.
Summary
Dan The Man follows a cracking funny story and features an epic arsenal of weapons as well as awesome upgradable fighting skills. The game also has more than enough enemies and boss fights that will satisfy any hardcore gamer. Install Dan The Man for PC to enjoy the game's retro-tinged visuals & sound as well as it's simple yet effective controls on desktop/laptops.
How to Download and Play Dan The Man on PC:
Download & Install Bluestacks. Alternatively you can use andyroid or ipadian.
Register new or connect your old Gmail/Google Play account.
Go to search box in bluestacks and type "Dan The Man"
Click "install" button next to the game and wait for the download to complete.
That is it! Enjoy Dan The Man for your desktop/laptop PC!
Dan The Man Trailer
Dan The Man - App Preview
About Dan The Man
Developer: Halfbrick Studios
Official Site
If you liked this post, don't forget to rate and share. Also if you can't run Dan The Man on PC or any other issue, write in the comments below and we'll help you.