Download Dragon Ball Z Dokkan Battle on PC (Windows 10, 8.1, 8, 7, XP computer) or MAC APK for Free
A lot of developers today use the same winning formula when it comes to making games. They use all of our favourite characters from movies or comics and they mix them up in one huge universe. It's not that we're complaining, but most of the gamers are worried that these games are just copying other ones and that they aren't bringing us anything new and interesting.
Dragon Ball Z is the perfect example of what we're trying to point out. But, the thing is that most of these games are mostly fighting games and Dragon Ball Z is a mix of multiple genres. When we think about it a little bit, that's probably one of the advantages that this game offers and it can make the game more interesting.
Even though this game is full of action, there will be a time when the only thing you will be doing is waiting. The reason for that is that your orders need to be carried out. But that probably won't bother you when we consider the fact that in the meantime you will be watching the fighting scenes between your favourite characters.
When we're talking about characters, there is one thing that will quite surprise you if you're DBZ fan and if you know the whole story. When you start playing the game, you will probably expect that there will be a lot of rivals, but, in this game, that's not the case. I mean, there will be fights, of course, but not as you would imagine.
See, you might pick Krillin and the next thing you know, Vegeta start helping you. In this game, anything is possible.
You're probably wondering why are good characters and bad character suddenly friend and are developers not familiar with the original DBZ series or they messed up game's story on purpose. Well, technically, it's none of that. The reason why is this happening is because of the incident that happened in-game.
Some person, whose identity remains unknown, stole Dragon Balls and decided mess a little bit with the whole DBZ universe. But, developers did this for a reason and that reason is versatility. They want players to be able to add as many characters as possible, regardless of their personality.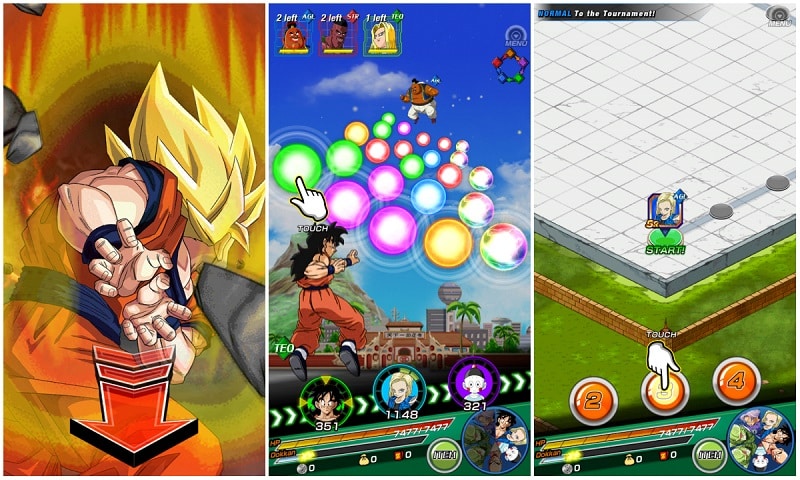 Gameplay
Once you're done with setting up your team, the tutorial will walk you through the basic things you need to know when it comes to this game. Levels will probably remind you of the ones in the board game, with a lot of spots, that will be leading you to the traps, short lasting power-ups, and items that you will use to upgrade your characters.
The thing that will cheer you up the most are the little red spots on the map which point out where the fights are currently going on. When you join in one of the fights, you will find "ki" attacks very useful. In case you don't know what "ki" attacks are, they are basically special attacks that deal bonus damage.
You can use these attacks by tapping on the spheres that indicate if the attack is available. If you manage to connect several same colored spheres, the attack will deal a massive amount of damage.
Features
Explore massive DBZ universe
Get ready for intense battles
Huge amount of characters
Assemble your perfect team
System Requirements
In order to play Dragon Ball Z Dokkan Battle, you will need a device with iOS, MAC, Android or Windows OS.
How to Download and Play Dragon Ball Z Dokkan Battle on PC:
Download & Install Bluestacks. Alternatively you can use andyroid or ipadian.
Register new or connect your old Gmail/Google Play account.
Go to search box in bluestacks and type "Dragon Ball Z Dokkan Battle"
Click "install" button next to the game and wait for the download to complete.
That is it! Enjoy Dragon Ball Z Dokkan Battle on your desktop/laptop PC!
Dragon Ball Z Dokkan Battle Trailer
About Dragon Ball Z Dokkan Battle
Developer: BANDAI NAMCO Entertainment Inc.
Official Wiki
If you liked this post, don't forget to rate and share. Also if you can't run Dragon Ball Z Dokkan Battle on PC/MAC or any other issue, write in the comments below and we'll help you.