1. You must train your demons well, according to your strategy
If you want to have Overlord on the front lines then you must train your defensive Overlord line more than our opponents' offense. Try to train your heroes according to a certain strategy.
2. Do not abuse your Fury Skills
Sometimes the proper timing of Fury Skills can bring you the victory when it comes to this game. Use it when you are attacked by strong opponents, not weak ones with low health.
3. Do not forget to check your missions
If you complete missions then you will receive rewards. The majority of them are really simple and they are an excellent way to receive big rewards.
4. Spend your resources according to your needs
If you do not spend your resources wisely then you will never be a professional player. They are completely vital if you want to remain in front of the game.
5. Check your enemies stats by tapping on them
If you want to know what demon to attack first and how to place your own demons you can tap on your opponents' stats in order to see all his demons.
6. Remember to collect your gold as soon as possible
Collecting your gold after conquering several regions of the map can help you not lose potential taxes. You can collect gold from the tower every thirty minutes.
7. You should visit the pirate ship later
The secret here is that if you wait long enough then you will be able to find a lot of items for free. This way you can save a lot of money.
8. You should use specific battle tactics when it comes to rear and front battle formations
A nice tip is to use your front in order to protect your rear. After that you have to stick all your demons in the same row. This can help you protect yourself better.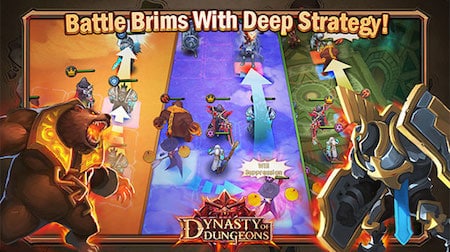 9. Try to ensure that you find the most suitable health upgrades for your tanks characters
You can use tank characters in order to soak up a lot of damage and to deal out a huge amount of powerful damage to your enemies.
10. Use special attacks in order to target more enemies in the same time
Try the Cleave Blade attack that is able to kill a lot of opponents with special abilities and it can maximize the damage.
If you liked this guide, don't forget to rate and share. Also if you have other Dynasty of Dungeons cheats, tricks or strategies, share them in the comments.