One of the most popular games lately is definitely Farm Heroes Saga. It is a classical match three symbols game that allows you to collect materials and products for your farm.
You will be able to collect flowers, animals, hatch chickens and in the end even Rancid the Raccoon.
No matter if you are a beginner or an advanced player that is looking for some special hints and tricks, the following ones are going to be extremely useful.
1. Do not use any Beans on Rancid
The Rancid levels are considered by many players difficult ones and they use a lot of beans to upgrade.
This is not true. The first Rancid levels are actually pretty easy and all you have to do is focus on the game.
You can use the beans for boosters that can help you clear a very difficult level.
2. Try to Understand Scores and Multipliers Properly
At the end of the level your score depends on the number of crops that you collect. The multipliers help you …multiply it.
It is better to clear crops with multipliers because in the end it will save you a lot of moves.
3. Flowers First
Try to get rid of the flowers at the beginning of the game, especially the problem ones. The flowers that are in the middle of the game board are definitely a problem because they can prevent you from making matches.
4. Never Spend Gold on Extra Moves
Unless you are really frustrated about a certain level you should not invest your gold in extra moves.
The main thing here is that you can never be sure if 5 extra moves are going to be enough for you to finish the lever or not.
5. Use Your Gold in Order to Unlock Gates and Nothing Else
If you really want to spend your gold properly then you should spend it in order to unlock gates. Never use it on extra moves (see tip number 4) or any other boosters.
This is the only time when you should use your gold, especially if you are not willing to invest real money in your game.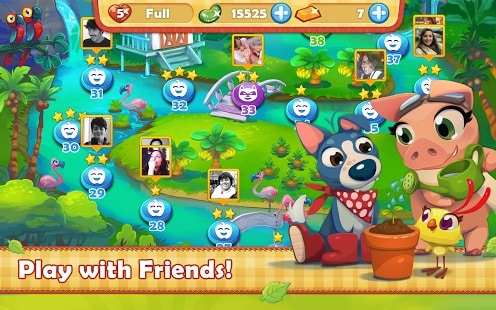 About Farm Heroes Saga
Developer: King
Official Website
There are a lot of simple tricks that can help you become one of the top players. All you have to do is be patient and in time you will realize which the wisest things to do in the game are and which are not. Good luck!
If you liked this guide, don't forget to rate and share. Also if you have other Farm Heroes Saga cheats, tricks or strategies, share them in the comments.