Download Hungry Shark World on PC (Windows 10, 8.1, 8, 7, XP computer) or MAC APK for Free
When Hungry Shark Evolution first came out, critics weren't that good, but, as the time went by, people realised that this game is actually pretty entertaining. Because of its success, FGOL and Ubisoft decided to make a brand new Hungry Shark game, that shares the same concept, but, with many new improvements.
After a couple of hours of playing, people who played both Hungry Shark games will realise that this new game is pretty similar to its older brother and that they'll catch on very quickly thanks to the previous playing experience. Also, at the same time, they won't be bored because of the new features. But, if you're new to these kinds of games, don't worry, It's easy to learn how to play and the game is very fun regardless of your age.
The goal in Hungry Shark World is to devour as much prey as you can, and by doing so, you collect points and goal that your cute little pup shark uses to grow into an enormous shark that looks extremely ferocious. In order to make this game more interesting, developers offer you 17 different shark species which you can collect as you play the game. Of course, every shark has its own, unique strengths and play styles, so that means that you will be able to choose between the Great White shark, Hammerhead, etc.
Gameplay
Almost every player will find beautiful graphics the most impressive thing about Hungry Shark World, and they wouldn't be wrong at all. Most people didn't expect the world in this game to be this artistic and beautiful, but, it seems like designers really gave their best to make this game look extremely good.
Once you start controlling your shark and get them to start moving through beautifully rendered water, you will realise just how smooth the animations are, everything from swimming to eating looks very realistic. While we're talking about movements, when we compare new sharks to the old ones, we have to say that new ones are much faster and agile, and overall more powerful, which makes the game even better.
Even though the missions might look similar and boring at the beginning, they're actually pretty different. Every single is unique, so sometimes you'll be going on a rampage and kill everything that moves, but, you'll also sometimes have to cruise with your shark a bit until you reach a certain goal. You will be able to find many bonuses in the ocean, but, beware of the large and scary enemies, they might be looking for you.
Shark species are not the only thing that has been improved, the number of maps is enlarged also. Now, Hungry Shark World offers you 3 completely different maps that you will be able to explore with one friend of your choice. As soon as you download the game, your sidekick will be an adorable octopus called Kraken, which is more useful that you could ever imagine.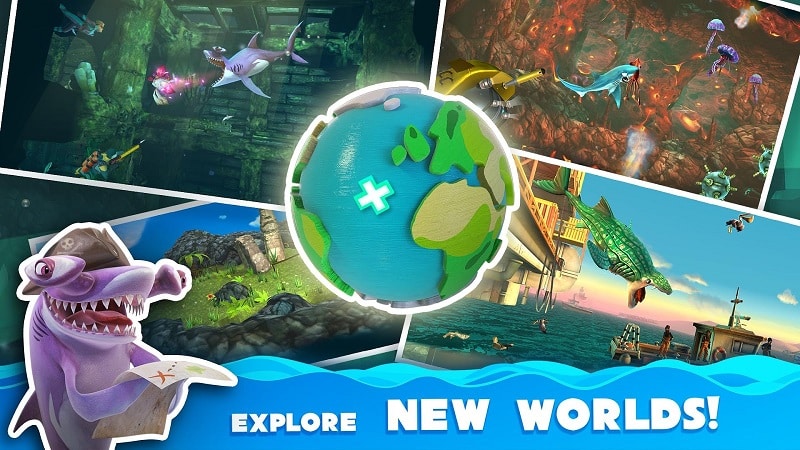 Features
Jaw dropping 3D graphics
20 brand new shark species to collect
Level up your favourite shark
3 new worlds that you can explore
More than 20 missions
Boost your shark's powers by getting him a friend
If you're a fan of Hungry Shark franchise and you want to play this new game, you will need a device with Android, iOS or Windows/MAC OS.
How to Download and Play Hungry Shark World on PC:
Download & Install Bluestacks. Alternatively you can use andyroid or ipadian.
Register new or connect your old Gmail/Google Play account.
Go to search box in bluestacks and type "Hungry Shark World"
Click "install" button next to the game and wait for the download to complete.
That is it! Enjoy Hungry Shark World on your desktop/laptop PC!
Hungry Shark World Trailer
About Hungry Shark World
Developer: Ubisoft Entertainment
Official Site
If you liked this post, don't forget to rate and share. Also if you can't run Hungry Shark World on PC/MAC or any other issue, write in the comments below and we'll try to help you.