Seeing how Inside Out is well on its way to become the most successful Pixar movie of all time, it shouldn't surprise anyone Disney wants to cash in on that by following it up with a video game.
After all, this has been their modus operandi for quite a long time. What we should be interested in, however, is that Inside Out Thought Bubbles is actually a pretty addicting bubble shooter!
If you're keen to give it a try, here is a helpful Inside Out Thought Bubbles game guide with tips and cheats to help you out:
• Take It Easy
This is one of the simplest and most important tips in this game – don't rush. Inside Out Thought Bubbles does not reward speed, but patience.
Make sure you are about to take the best shot available before actually doing it.
In the same vein, keep in mind you can alternate between the two colors you're given. And seeing how you'll move on to the alternate color when you've shot the main one anyway, always consider the bubble clusters that will form after you've made your shot.
• Deal With Frozen Clusters Quickly
Frozen chunks are bad news, as they don't let any other bubbles get past them. If you were wondering how to get rid of them as quickly as possible, the answer is simple – Joy's special ability.
Hitting an ice cluster with her special bubble will destroy it, so make sure you line up your shot well and go to town.
• Use the Special Abilities
You'll only have Joy at the start, but as you progress you'll unlock the other Riley's emotions – Sadness, Anger and Disgust.
Each of these characters has a unique special ability, which are all super useful and should not be ignored. For example, Sadness is able to make all the bubbles above it turn blue and disappear, whereas Anger can shoot a fireball in a straight line.
There are also some other power-ups that you can unlock by opening treasure chests on your level map.
There are three of them: Line Power extends your aiming line, Rainbow Memory matches all the memories of a single color, and Extra Choices lets you shoot four bubbles instead of two.
• Watch the Ads
There is also another way to get those neat non-character power-ups, and it's fairly simple – don't skip the video advertisements when they come up.
They may seem like a chore to sit through, but doing so gives you a big chance to get a random power-up. Plus, the videos are only a few seconds long anyway.
• Avoid the Line
"Avoid the Line" levels get unlocked at level 21 and require a slightly different strategy to beat. In "Avoid the Line", the grid falls down after every third shot you make – if it touches the line, you're out. The best way to avoid that is to ignore what you've learned up to that point and just focus on shooting bubbles in front of you.
This is where the characters' special abilities come in handy, as you can use them to destroy the entire front section or a bubble cluster just above the front line. This is a good time to use the other power-ups if you have them as well.
• Land the Trick Shots
In most cases, trick shots (or tricks) are pretty much the best kind of shot you can fire in this game. Tricks are done by shooting your ball so it bounces off the wall and hits the bubbles stationed on top of the front cluster.
Not only these tricks are an enormous help in getting rid of those hard to reach memories, but all the bubbles on top of those will be knocked down and form a new cluster that you can hopefully get rid of with a single shot!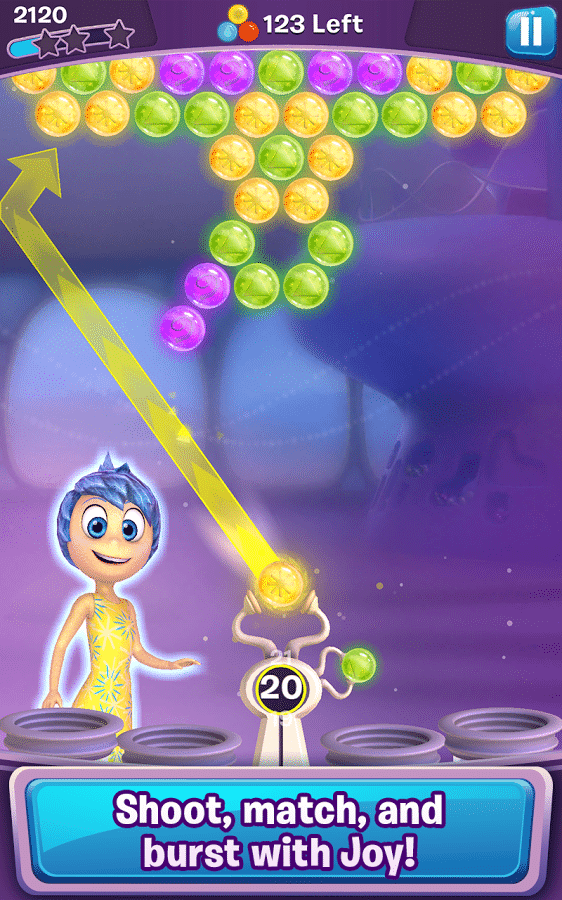 • Manage Your Lives Cheat Exploit
When you happen to lose a stage or restart after making even a single move, you'll lose a life. Once you're out of lives, you will be forced to wait 30 minutes or spend your hard-earned gems to unlock another one.
If you're not opposed to some slight cheats, there is a more practical way – setting the time on your Android ahead by 30 minutes.
You can get a maximum of 5 lives this way, and resetting the time back to normal won't delete them. If this trick doesn't work, enter your device's airplane mode and try again!
About Inside Out Thought Bubbles
Developer: Disney
Official Wiki
Inside Out Thought Bubbles App!
If you liked this strategy guide, don't forget to share. Also if you have other Inside Out Thought Bubbles cheats or tips leave a comment below.