If you are looking for a worthwhile MMORPG that will keep you on your toes then your search ends with the Lineage 2 Revolution for PC. This breathtaking open-world game by Netmarble comes with amazing visuals of a stunning magical world in which as many as two hundred players can fight on one screen in real-time!
How to Download and Play Lineage2 Revolution on PC
Download, Install and Play Lineage2 Revolution on your Windows PC or MAC with mobile app emulators for free.
Download & Install Bluestacks. Alternatively, you can use Memu or Nox.
Register new or connect your old Gmail/Google Play account.
Go to the search box in the emulator and type "Lineage2 Revolution"
Click "Install" button next to the game and wait for the apk to finish downloading.
That is it, click Play! Enjoy Lineage2 Revolution for your desktop/laptop PC!
Platforms: Android | iOS | Windows 7/8/8.1/10/XP/Vista | MacOS
Create your own clan or join in with strangers to win over frightful monsters, conquer dungeons or even battle with other players from across the globe.
The Game In A Gist
These trailblazing online RPG games come loaded with incredible visuals and a gigantic open world for players to experience the true meaning of an amazing, fully-featured, and endless MMORPG. You get to enjoy this game along with hundreds of other players all over the world without moving an inch from your desktop.
You get to move through the main quests across open areas, engage in side missions and take part in several other smaller quests along with your teammates. The Unreal Engine 4 makes the game appear more life-like than any other RPG game. While you may experience some trouble trying to keep up initially, but soon things will become smoother for you as this game features an auto-battle system.
The game will allow you to auto-play if you are properly geared up for the quests. You need to simply tap on the main quest and the game will auto-run to complete the mission on your behalf. This system can prove beneficial for those who prefer to play games on the tablet or PC simultaneously.
The Gameplay
In Lineage 2 Revolution you will need to begin by creating your character and then selecting its race. There are 4 different races and 3 distinct classes to choose from. After you have made your selection, you will face mobs and quests that you have to win in order to progress in the game.
Not only is the game loaded with each and every open-world feature, but you can also enjoy other offerings from this game including party system, instanced dungeons, PVP, guild war, tower of insolence, auction house, and sieges among others.
The PC-level visuals of this game are worth mentioning, and you are highly recommended to play this game on a large screen where you can maximize on MEmu keymapping feature.
This feature will allow you to set the keys on the keyboard to exercise specific actions such as an attack. Using MEmu will give you an edge over the other players who can only use the touch-screen features to compete with you ( with your keyboard and mouse).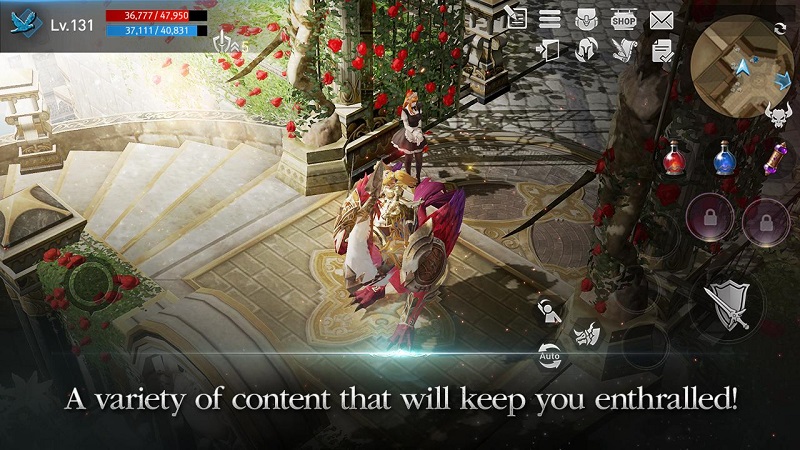 Features To Look Out For:
– Race Options – There are 4 unique races including Elf, Human, Dwarf and Dark Elf that you can select from.
– Classes For Playing – Again, you have the option of selecting from 3 different classes – Mage, Warrior, and Ranger – to decimate your opponents using various techniques and skills.
– Intriguing Graphics – The 3D graphics that have been created using Unreal Engine 4, takes the game to a higher level in terms of quality and visual display.
– Multiplayer Option – This game gives you the opportunity to join different players from various parts of the globe to undertake siege wars and group dungeons.
Summary
Lineage2 Revolution for PC is a huge hit in the world of RPG games. With exciting adventures and outstanding graphics, this MMORPG is the perfect addition to your desktop or laptop if your PC runs on Windows 7/8/8.1/10/XP OS or MAC OS.
Lineage2 Revolution Trailer
Join the Revolution! Lineage 2: Revolution
About Lineage2 Revolution
Developer: Netmarble Games
Official Site
If you liked this post, don't forget to rate and share. Also if you can't run Lineage2 Revolution on PC or any other issue, write in the comments below and we'll help you.