Download Magic Rush: Heroes on PC (Windows 10, 8.1, 8, 7, XP computer) or MAC APK for Free
Magic Rush is the type of game you simply won't be able to stop playing. It's super addicting and the reason for that is that it combines more than one genre, but the main focus will be on hero leveling. To be more precise, it will feel like you're playing an RPG game.
One of the biggest advantages of this game is that it's very dynamic. You will find yourself in the small local fights and a few moments later, you will be stuck in the middle of the massive empire duels. Because of that, you will always have to come up with some new, brilliant strategies, just in case something happens that you weren't expecting.
Even though Magic Rush: Hero is pretty epic on a global scale, it starts with a rather simple beginning. All of your heroes are being trapped by an evil knight who wants to devour their souls. And he manages to do that, he consumes their souls and turns them against you. So the only thing that is left for you to do is to run. Also, the game lets you bring one ally with you that you get to pick.
We feel we're obligated to give you a little warning before you start playing Magic Rush. This game is so addictive it will probably consume a large amount of time.
So if you're not capable of playing this game for a few hours daily, you shouldn't start at all. But no seriously, this is a super fun game and it takes some time to learn the stuff you will need in order to be good at this game.
Gameplay
As soon as you start playing Magic Rush, you will begin a magnificent journey that will last for a while. The reason for that is the fact that this game has a massive map with a lot of quests and side missions. To be honest, you will probably be battling every few minutes. It's surprising how many enemies you will need to defeat, but of course with the help of your heroes.
You will notice that each hero that you play has a different skillset that builds as the time goes by. That means that you will be able to use every single skill by tapping on them and aim towards your enemy. The next thing you will see after you use the skill is the series of awesome effects that will probably help you win any fight.
Side missions aren't as simple as a regular campaign. As you play the game and explore the world, you will run into crystals every now and then and when you tap on them, you start a mission where you will be defending towers. To be more precise, you will be defending your heroes, which will transform into towers. But I guess that's kind of the same thing.
The cool thing about these missions is that you will be able to upgrade your heroes. But if you get bored by playing the same hero over and over again, you can summon a completely different one on a map.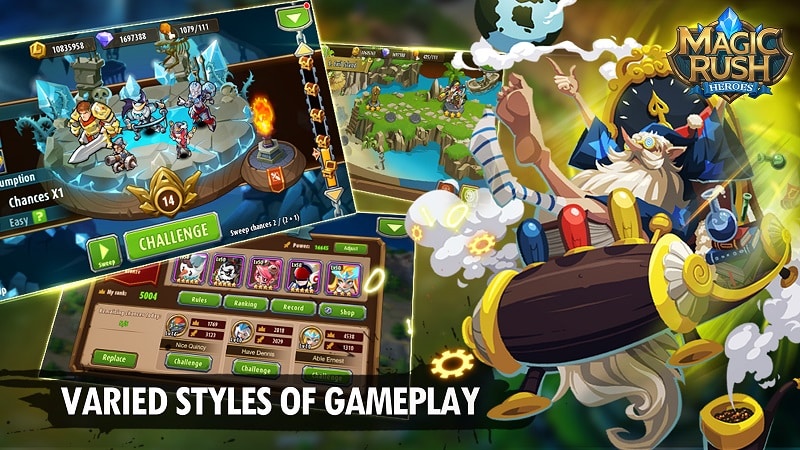 Features
Free to play
Great graphics
Lots of heroes
Massive battles
Complex strategies
System requirements
In order to play Magic Rush: Heroes, you will need a device with iOS/MAC, Android or Windows OS.
How to Download and Play Magic Rush: Heroes on PC:
Download & Install Bluestacks. Alternatively you can use andyroid or ipadian.
Register new or connect your old Gmail/Google Play account.
Go to search box in bluestacks and type "Magic Rush: Heroes"
Click "install" button next to the game and wait for the download to complete.
That is it! Enjoy Magic Rush: Heroes on your desktop/laptop PC!
Magic Rush: Heroes Trailer
About Magic Rush: Heroes
Developer: Elex
Official Forums
If you liked this post, don't forget to rate and share. Also if you can't run Magic Rush: Heroes on PC/MAC or any other issue, write in the comments below and we'll help you.