If you are an avid player of the hugely popular MOBA (Multiplayer Online Battle Arena) game called "Mobile Legends", then you would know that there are main currencies that you need to amp up your game – Battle Points and Diamonds. Both can be used to unlock heroes and skins as well as strengthen your existing ones. So what is the best way to get more of them?
Now Battle Points are primarily earned in-game by participating in team battles and completing daily tasks.
Diamonds, on the other hand, is the premium currency of the game and must be obtained using real cash.
Wouldn't it be nice to know how you can receive both for free? It is not as difficult as you might think and you don't need to resort to illegal hacks that can get your account banned and wipe out all of your game progress.
So how do you legitimately get Battle Points and Diamonds on Mobile Legends for free?
Most players are not to keen on spending real money in exchange for digital goods, and Diamonds/Battle Points are no exception. If you are reading this, then you probably feel the same way.
Fortunately, there are several legit ways to earn Battle Points and Diamonds on Mobile Legends which include the following:
1. Earn Battle Points by Completing Daily Quests and Opening Chests
Battle Points are the most accessible in-game currencies that you can get on Mobile Legends and can be used to unlock certain heroes in the game. This is because the game rewards players with Battle Points after every match (except practice battles). The more matches you win, the more Battle Points you can accumulate.
Battle Points can also be obtained by unlocking chests (from skins and trial cards of heroes that you already have which can be converted to Battle Points).
Likewise, you can earn Battle Points by completing Daily Quests that can net you some Daily Activity Points which you can then use to unlock Battle Points and Group Rewards.
You can earn as much as 100 Battle Points in 24 hours Plus an additional 500 Battle Points every week if you max out the required weekly activity score (800 Daily Points).
As you might have realized, it takes time to earn Battle Points on Mobile Legends, and it is safe to say that Moonton designed it that way. The more time people spend playing Mobile Legends, the more Battle Points you get which makes sense.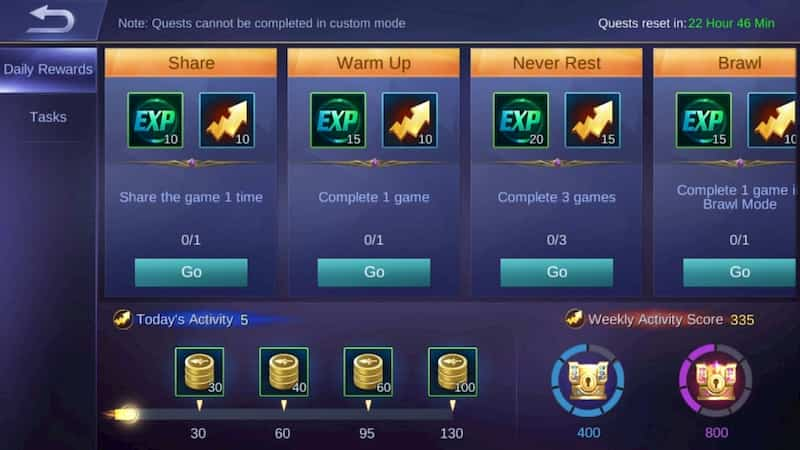 2. Earn Diamonds Through 3rd Party Apps that Offer Free Google Play/Apple Store Credits
So what about earning free Diamonds on Mobile Legends?
Well, this is where things get a bit more difficult for players. As the namesake suggests — Diamonds are a precious and rare commodity.
In the case of Mobile Legends, Diamonds are primarily used to unlock many of the games premium features. As such, Moontoon offers no direct way for regular players to get Diamonds for free in-game save for the free ones that you get when starting a new account.
Fortunately, there are other ways outside of the game that you can use to obtain Diamonds on Mobile Legends without having to spend a cent. The most straightforward way is to download and start using apps that reward user activity with store credits.
Certain apps like "Google Opinion Rewards" pay users with Play Store Credits/Paypal credit (for iOS users) in exchange for answering surveys and participating in their Rewards Program.
As you might have already realized, the credits on Play Store or Paypal can be used to purchase Diamonds on Mobile Legends legitimately and without users having to pay a cent.
Some apps that you can use to earn free credits on Google Play or iOS include the following:
Swagbucks
instaGC
FeaturePoints
S'more
Bananatic
Know that the apps described above may or may not be accessible to you depending on your location and whether or not you qualify for their rewards program. You will also find many other apps that claim to do the same that are either fake or worst — steals sensitive information or injects malware to your device.
Make sure to verify the authenticity of an app by researching user reviews before you spend any amount of time or energy on them.
3. Earn Diamonds by streaming
Another way to earn free diamonds on Mobile Legends is to stream your game which can net you something called "BB points" from viewers. You can then exchange 5 BB coins for 1 Diamond.
However, such an option is only available to advanced players with a rank of "Master" and above. Players also need to rank as one of the top 5000 players in the game to register as a streamer.
So there you have it — a few tips on how to get Battle Points and Diamonds on Mobile Legends for free! It is not impossible but does require a great deal of time and energy. Still, these are minor gripes for players that truly enjoy the game and are keen on making the most of what it offers without having to spend a significant amount of money in the process.
About Mobile Legends: Bang Bang
Developer: Moonton
Official Site
If you liked this guide, don't forget to rate and share. Also if you have other Mobile Legends: Bang Bang cheats, tricks, tips or strategies, share them in the comments below.