Download Rocket Royale for PC (Windows 10, 8.1, 8, 7, XP computer) or MAC APK for Free
Rocket Royale is the most unique survival shooter which you can download as the goal of playing Rocket Royale is to collect enough resources to build a rocket ship, to escape the island, which you find yourself stranded on. To find out why it's well worth your time downloading Rocket Royale for PC, simply continue reading!
Rocket Royale Gameplay
When you start a new game, your main mission will be to lookout for falling meteors which will contain the resources which you'll need to build an escape rocket. To make your task harder, you'll have to protect your half finished rocket from other players who will try and sabotage your rocket and steal your rocket parts. In order to protect your rocket and your supplies, you'll also be able to be able to use wood to create a fort.
Why you should spend your free time playing Rocket Royale:
1. You won't have to worry about dealing with a shrinking map.
If you're sick of games featuring ever shrinking maps, which force you into confined areas with other players, you may appreciate that the fact that Rocket Royale doesn't feature a shrinking map.
2. Rocket Royale offers portals.
In Rocket Royale you'll be able to use portals to instantly travel from one part of the island to another. So if you need to escape a player who is shooting at you, you may be able to escape via a portal.
3. You can build a wide variety of structures.
If you accumulate enough wood, you'll be able to craft a wide variety of structures such as bridges, towers and forts. You can even try building a sky bridge.
4. 3 Different game modes.
Rocket Royale offers a solo player mode, where you'll face off against 24 players as well as a duo mode and a team mode. If you're curious about Rocket Royale's team mode, each team consists of three real life players and involves teams of three competing to build rockets to escape the battle island.
One of the advantages to playing Rocket Royale's team mode is that one player on your team will be able to guard your rocket, while the other two players will be able to hunt for meteors and resources.
5. You can unlock new celebration dances.
When your player or your team successfully wins a battle, you'll be able to perform a victory dance in celebration of your win. Better yet as you start winning games and leveling up, you'll unlock brand new dances to perform.
6. You can loot the players which you eliminate.
Each time you eliminate a player, you'll be able to pick up and keep all of the items which they've collected. So if scavenging isn't your style, you can win games simply by eliminating players and taking their possessions.
7. Rocket Royale doesn't utilize bots.
All of the players who you'll face are real individuals as Rocket Royale doesn't use AI bots.
So if you're itching to build a rocket and to win a round of Rocket Royale, it's well worth downloading Rocket Royale today!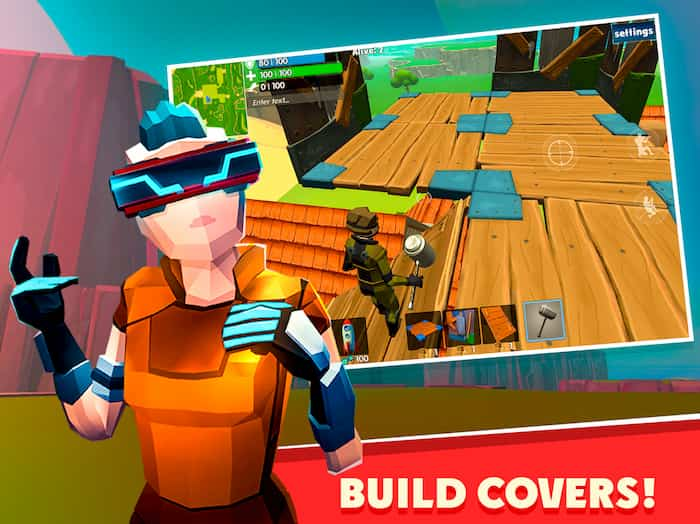 How to Download and Play Rocket Royale on PC:
Download & Install Bluestacks. Alternatively you can use andyroid or ipadian.
Register new or connect your old Gmail/Google Play account.
Go to search box in bluestacks and type "Rocket Royale"
Click "install" button next to the game and wait for the download to complete.
That is it! Enjoy Rocket Royale for your desktop/laptop PC!
Rocket Royale Trailer
About Rocket Royale
Developer: GameSpire Ltd.
Platforms: Android | iOS | Amazon
Official Site
If you liked this post, don't forget to rate and share. Also if you can't run Rocket Royale on PC or any other issue, write in the comments below and we'll help you.