Download SurvivalCraft on PC (Windows 10, 8.1, 8, 7, XP computer) or MAC APK for Free
Minecraft has been an immensely successful game and with that success came a high volume of games that attempted to copy its formula for but have proven to be cheap knock-offs.
The debate is on regarding whether SurvivalCraft for PC is one of those games. It is quite clearly a carbon-copy of Minecraft however it has added certain features that may even make it more enjoyable than Minecraft. Minecraft- Pocket Edition was released to bring Minecraft to the mobile platform but SurvivalCraft has proven to be the better game. It was made by just a single person and is currently the best sandbox game currently available on mobile platforms.
Gameplay
SurvivalCraft is all about staying alive. You start off abandoned by your shipmates on an unknown world to fend for yourself. You have to make use of the resources in the world around you to build and survive on your own.
There's stamina gauge to show how strong your player is that dwindles if he doesn't get enough food and creatures lurking in the bushes that want to make you into their dinner and if you don't get enough sleep then you'll make it easier for them.
You create a ton of things to make survival easier such as torches to see at night and glass walls for your dwelling so that you can see outside and know if it's safe to go out or not. Peril is always lurking with wolves and polar bears that roam day and night along with the constant threat of lightning strikes that damage your structures.
While Minecraft concentrated on exploring the world and seeing what you can do with it, SurvivalCraft gives its players a more clearly defined goal. Building stuff is based on practicality and how it will help you survive rather than simply building something because it will look cool.
The Good
The scope in SurvivalCraft for PC is what puts it far ahead of other games similar to Minecraft. The world in this game is massive with literally no end in sight. You can't tell if the world is truly so big that it is impossible to search every corner or if the game is continuously generating new terrain as you go along.
Tiny nooks in mountains open up into massive cave networks that go on forever and fields and forests are infinite, an amazing accomplishment for a game that's on a mobile device. Minecraft in comparison has invisible walls that you run into when there is no more land to explore.
The Bad
You can't help but feel that SurvivalCraft was developed to capitalize on Minecraft's success. The entire premise is copy-pasted and even though there are a number of features to SurvivalCraft that make it stand out, it will always be remembered as being a Minecraft-like game. If somebody handed you a PC with SurvivalCraft running, you'd probably be playing for a while before you realized that it isn't actually Minecraft.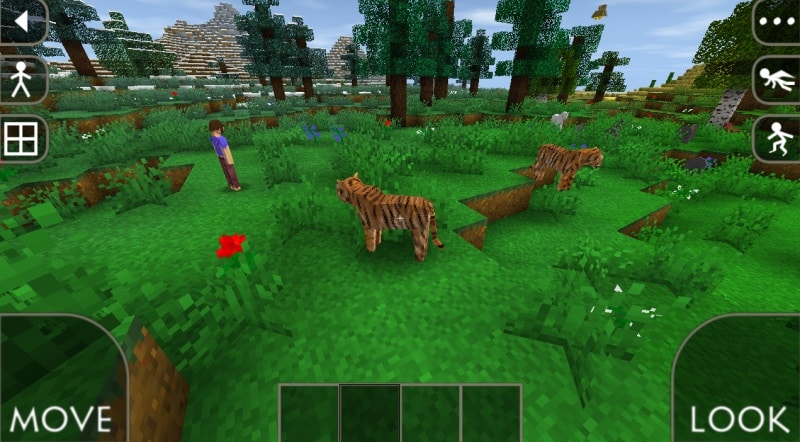 Conclusion
Fans of Minecraft will love SurvivalCraft for PC because of how much freedom it offers. It gives them an enjoyable experience in the format of Minecraft that they enjoyed so much but with darker themes and a clearer objective. However, there are some who will be offended by what comes across as a blatant rip-off of an already existing game.
How to Download and Play SurvivalCraft on PC:
Download & Install Bluestacks. Alternatively you can use andyroid or ipadian.
Register new or connect your old Gmail/Google Play account.
Go to search box in bluestacks and type "SurvivalCraft"
Click "install" button next to the game and wait for the download to complete.
That is it! Enjoy SurvivalCraft on your desktop/laptop PC!
SurvivalCraft Trailer
About SurvivalCraft
Developer: Candy Rufus Games
Platforms: Android | iOS | Amazon
Official Site
If you liked this post, don't forget to rate and share. Also if you can't run SurvivalCraft on PC/MAC or any other issue, write in the comments below and we'll help you.