Download Tank Stars for PC (Windows 10, 8.1, 8, 7, XP computer) or MAC APK for Free
Tank Stars is a tank-themed games that features light animations, a touch of violence and many advertisements.
You'll play through Tank Stars by taking control of tanks that have deadly weapons attached. You'll choose from a wide selection of things that go boom ranging from atomic bombs to simple missiles. You just have to be able to make the right shots quickly.
Gameplay
The gameplay is designed as head-to-head battles against other tanks on randomly generated maps. Each tank has a total of six different attacks which are reloaded when every last shell is spent. Random crates will be flown in to help you stock up on deadlier weapons such as nukes.
The battles are intense and you will need to be quick to stay alive during the turn-based combat. Your range of movement will be sorely limited because you get a small amount of fuel for reach round. Precise shots and choosing the right weapon are more important than dodging incoming fire.
One of the best strategies is going in as close to your foe as possible. You'll be much more likely to land a shot if you're up close but you also run the risk of becoming an easy target for your enemies.
Different tanks will become available to unlock as you progress through the levels. The ABRAMS tanks is the first one available and it comes equipped with a humble stock of rockets. The rest of the tanks differ in their attack capabilities.
The Big One's attacks have a small blast radius but they do massive damage. You'll have to get in close to make use of Shotgun's powerful close-range tanks and the Volley launches a barrage of cannon shells that are tough to dodge. Air Strike is good for accurate hits over long distances.
Successfully defeating your opponents is a lot of fun and the game rewards you with gold. This in-game currency will be used to buy special attacks such as Helios and Frost, or used to upgrade your tank's key specifications such as HP and armor.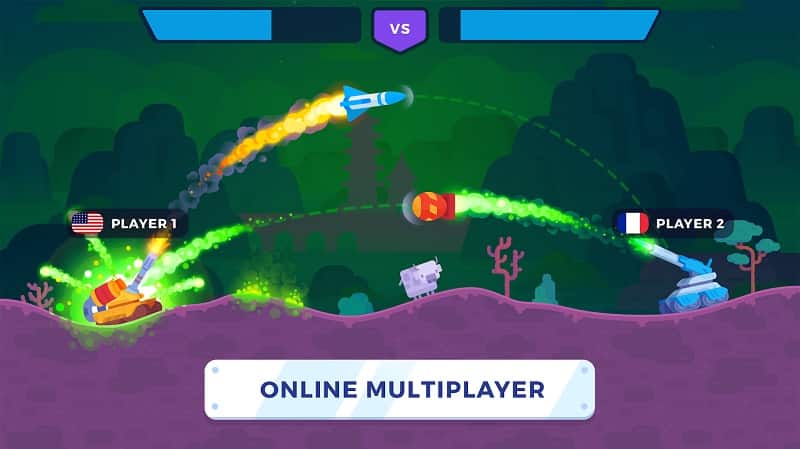 Players get to choose between four game modes. You can play against the computer for practice, team up with a friend on the same device or battle against other players in online PVP mode.
You can expect to deal with many advertisements as you play through. You'll probably want to skip every single one but the game gives rather generous rewards for sitting through a few of them. Watching a video advertisement, for example, gives you a free respawn that you can use during battle.
The Good
The randomly generated maps make things challenging because you cannot pick the right tank for the job beforehand.
The rewards system gives you a bonus for logging in every 15 days. The Tank Cards that it gives you are vital for upgrading your tanks.
The Bad
Repetitive gameplay and a barrage of advertisements.
Conclusion
Tanks Stars is an addictive game. You'll need to put in some practice before you get to the point where you can make a name for yourself online. The never-ending pop-up advertisements are annoying but you learn to ignore them after a while.
How to Download and Play Tank Stars on PC:
Download & Install Bluestacks. Alternatively you can use andyroid or ipadian.
Register new or connect your old Gmail/Google Play account.
Go to search box in bluestacks and type "Tank Stars"
Click "install" button next to the game and wait for the download to complete.
That is it! Enjoy Tank Stars for your desktop/laptop PC!
Tank Stars Trailer
About Tank Stars
Developer: Playgendary
Official Site
If you liked this post, don't forget to rate and share. Also if you can't run Tank Stars on PC or any other issue, write in the comments below and we'll help you.