Tap Titans 2 is a game that makes endless tapping on a screen a whole lot of fun. Mobile games must be simple in order to be feasible so most games reduce most of the controls at the expense of gameplay. Tap Titans 2 for PC gives you a single thing to do and the result is more entertaining than most would expect.
How to Download and Play Tap Titans 2 on PC
Download, Install and Play Tap Titans 2 on your Windows PC or MAC with mobile app emulators for free.
Download & Install Bluestacks. Alternatively, you can use Memu or Nox.
Register new or connect your old Gmail/Google Play account.
Go to the search box in the emulator and type "Tap Titans 2"
Click "Install" button next to the game and wait for the apk to finish downloading.
That is it, click Play! Enjoy Tap Titans 2 for your desktop/laptop PC!
Platforms: Android | iOS | Windows 7/8/8.1/10/XP/Vista | MacOS
Gameplay
Tap Titans 2 for PC starts you off as a blonde guy in a suit. You get to pick his name to make him yours so pick one that you like because you'll be playing as him for the entirety of the game. The avatar can be changed as well however there are only three options.
Like the name of the game suggests, all that you have to do is tap anywhere on the screen. Tapping will make your character swing his sword at opponents and slash them to pieces. The faster you tap, the faster you slash.
Most of the enemies are monsters and there is a boss battle at the end of each stage. You have to be quick when killing the bosses because if you're not then the timer will run out and you'll be forced to fight more monsters until the boss shows up again.
Each monster defeated leaves your player with coins. These coins are vital because they help you level up and stay on par with the monsters which are also getting stronger as you go from level to level. Coins can also be used to get companions.
The companions are known as pets. Along with them you can also pick up special artifacts along the way to keep you leveling up. Every item can be upgraded and you are unlikely to upgrade them all in your first playthrough which is great for replays.
Some boss battles are too much for you to handle on your own so you'll need to join a clan and take them on as a team. Choose your clan wisely because every member is integral to the success of your campaign.
The Good
The graphics are a joy to watch and play. Tap Titans 2 for PC may not have the best details in the gaming world however the little that is there is used very well so that the monsters look as hideous as they are supposed to and the sprites look happy. The well-designed monsters also look very nice in their respective backdrops.
The upgrade system in Tap Titans 2 for PC is also much better than the previous game. In the first Tap Titans there was no point in trying to upgrade past a certain level because of diminishing returns however with this installment your damage doubles with every twenty levels.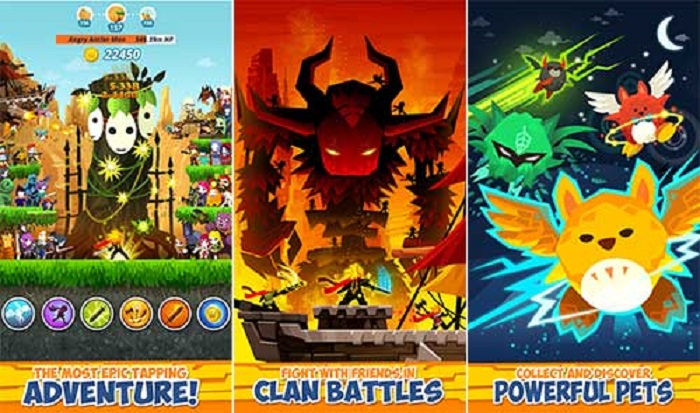 The Bad
Tapping does not require any real thought or provide much of a challenge.
Conclusion
Tap Titans 2 excels in how the concept is a good execution of a simple mechanic. You don't need any great skill to play it so many people will be able to enjoy it whether they want to play for a few quick minutes or go crazy and play for hours.
Tap Titans 2 Trailer
About Tap Titans 2
Developer: Game Hive Corporation
Official Site
If you liked this post, don't forget to rate and share. Also if you can't run Tap Titans 2 on PC or any other issue, write in the comments below and we'll help you.