The Walking Dead has proven to be a money-making franchise. Robert Kirkman's world of the undead has been adapted into many forms from the hit TV series to Pinball games and video games all stemming from the popular comic-book series.
How to Download and Play The Walking Dead: Road To Survival on PC
Download, Install and Play The Walking Dead: Road To Survival on your Windows PC or MAC with mobile app emulators for free.
Download & Install Bluestacks. Alternatively, you can use Memu or Nox.
Register new or connect your old Gmail/Google Play account.
Go to the search box in the emulator and type "The Walking Dead: Road To Survival"
Click "Install" button next to the game and wait for the apk to finish downloading.
That is it, click Play! Enjoy The Walking Dead: Road To Survival for your desktop/laptop PC!
Platforms: Android | iOS | Windows 7/8/8.1/10/XP/Vista | MacOS
The Walking Dead: Road To Survival for PC is the latest addition to the video game's series. The game is a turn-based RPG that explores story-lines not seen in the TV series' or comic books. It starts off as Phillip Blake first arrives at Woodbury before he rose to become the town's infamous governor.
Gameplay
Combat in the game is turn-based. Each player is given a chance to deliver their attacks and can only target one enemy at a time. This means that the game goes at a slow pace however it makes up for this by being easy to grasp onto.
When fighting zombie they take one step closer to you with each turn and when fighting humans they attack one of your characters before you can fight back.
Each character has their own special fighting techniques that do more than damage than others. Therefore the player must assess each battle and strategize on how to clear out the enemies with the most efficient use of resources such as ammo.
The Good
Fighting as a group of survivors who have been through hell is not as glamorous as taking a host of armor-clad knights and archers into battle. The characters that you play as are held together by duck-tape and strings but there is something noble in beating the odds and coming out on top of the food chain in a world that has turned on its head with monsters waiting around every corner to rip your neck out. This battle to survive is what keeps people playing on and the series selling.
The campaign play puts the power in the hands of the players as they make decisions that shape the outcome of the game which makes every player's experience of the game unique and makes it worthy of several replays.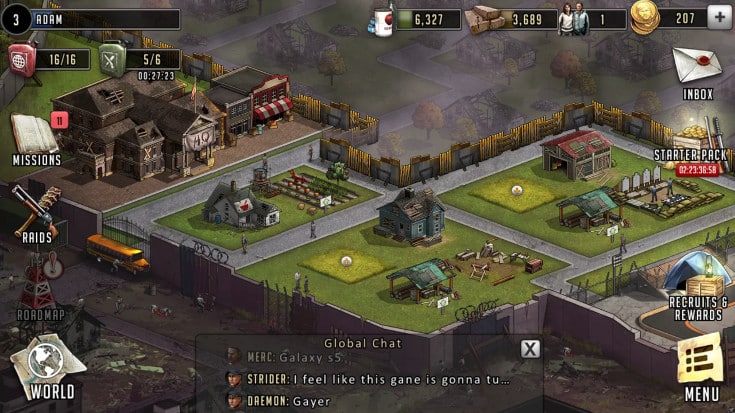 The Bad
Combat aside, The Walking Dead: Road to Survival for PC is your typical base-building game. Players hunt for resources to build their base of Woodbury to be strong enough to withstand attacks from blood-lusting zombies and other survivors looking to pilfer your resources. Other than that, there is little to differentiate it from other RPGs on mobile platforms. If it did not have 'The Walking Dead' in its title, it probably wouldn't be as successful as it is.
Conclusion
The Walking Dead: Road To Survival's story-line is closer to comic books than the TV series so fans may be disappointed not to see their favorite characters from the TV series such as Daryl or Rick. This may alienate a few fans who only ever watch the series may find it difficult to get into the game's plot but they will enjoy seeing other sides the Walking Dead's universe in this game of strategy.
Mobile strategy games have become a stalwart for mobile gaming. Each developer is trying their best to add something new to the genre and The Walking Dead: Road to Survival for PC gave us something to think about. The combat and desire to survive did enough to make this game an example of how strategy games can be fun when done right.
The Walking Dead: Road to Survival Trailer
The Walking Dead: Road to Survival
Developer: Scopely
Official Website
If you liked this post, don't forget to rate and share. Also if you can't run The Walking Dead: Road to Survival on PC/MAC or any other issue, write in the comments below and we'll help you.