Hustle Castle: Fantasy Kingdom is an RPG where players get to run their own kingdom. The only problem is that an evil lord is causing havoc in the kingdom and someone has to save it from destruction.
How to Download and Play Hustle Castle: Fantasy Kingdom on PC
Download, Install and Play Hustle Castle: Fantasy Kingdom on your Windows PC or MAC with mobile app emulators for free.
Download & Install Bluestacks. Alternatively, you can use Memu or Nox.
Register new or connect your old Gmail/Google Play account.
Go to the search box in the emulator and type "Hustle Castle: Fantasy Kingdom"
Click "Install" button next to the game and wait for the apk to finish downloading.
That is it, click Play! Enjoy Hustle Castle: Fantasy Kingdom for your desktop/laptop PC!
Platforms: Android | iOS | Windows 7/8/8.1/10/XP/Vista | MacOS
Gameplay
Saving the world from an evil lord is a premise that any experienced gamer will know well. Hustle Castle: Fantasy Kingdom for PC has a fictional setting in medieval times where you command a kingdom that boasts expansive armies and forts. The game misses out on points for creativity when it comes to choosing the setting but the overall gameplay makes this worth overlooking.
Most of this game is played as a campaign in single-player mode. The story progresses through missions that must be completed as you proceed on your quest to defeat the Abyss Lord. Most of the enemies will have human form but there are a few mythical creatures such as orcs and dragons thrown in for variety's sake.
The castle is your primary base of operations so you'll have to fortify it with care. This is the castle where you will protect your people and fight back any enemies that try to storm your walls. The fortress' fortifications are light at first therefore you will have to work hard to build them up. A special knight is in charge of showing you how to build up your castle by performing simple tasks such as putting up army barracks.
The subjects in your kingdom have a key role to play therefore the developers placed a lot of emphasis on diversifying how they look and it shows in how you interact with them. Different classes of scribes and blacksmiths which are easily told apart thanks to the distinct roles that each one has to play.
If you find that the population of the citizens is being decimated by all the battles you have an option of convincing them to reproduce. You do this by setting updates and parties for them to interact with each other and mate to give birth to new citizens which replace the old ones. This novel idea forces you to treat your kingdom's people as a resource that must be managed.
Planning for battles and carrying out attacks is where you will spend the bulk of your time. Your ranks will be filled with varying classes of fighters including knights that don't look very tough even though they inflict large amounts of damage on your enemies. As strong as they are, you will have to upgrade them to stand a chance in the missions that progressively get harder.
The Good
The gameplay is easy to understand thanks to simple mechanics.
The cartoonish design on the graphics keeps the grim themes from being too dark so that players of any age can enjoy the game.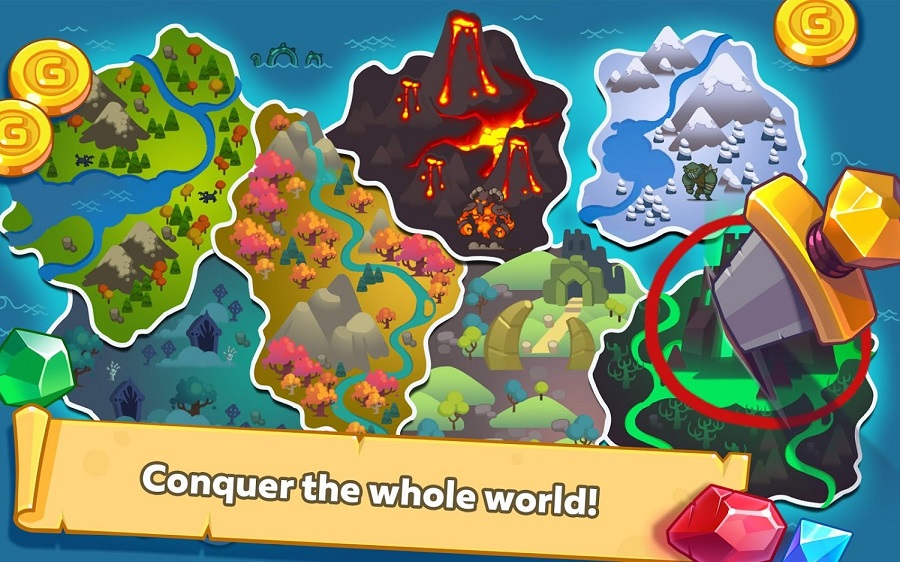 The Bad
The Medieval Ages were rife with a variety of conflicts so the developers could have picked a more original source of motivation than just saving the princess.
Conclusion
Hustle Castle: Fantasy Kingdom is a fun game. It doesn't feel as nerdy as other RPGs thanks to more intuitive design choices.
Hustle Castle: Fantasy Kingdom Trailer
About Hustle Castle: Fantasy Kingdom
Developer: My.com
Official Site
If you liked this post, don't forget to rate and share. Also if you can't run Hustle Castle: Fantasy Kingdom on PC or any other issue, write in the comments below and we'll help you.