Download CATS: Crash Arena Turbo Stars on PC (Windows 10, 8.1, 8, 7, XP computer) or MAC APK for Free
ZeptoLab, the creators of the hit games "King of Thieves" and "Cut the Rope", have programmed one of the most ingenious and addictive battle bot construction games – CATS: Crash Arena Turbo Stars. This action loaded game lets you combine all sorts of random parts, to create ridiculously cool war machine and face off against other real players from around the world doing the same. In this page, we take a closer look at what makes CATS: Crash Arena Turbo Stars unique as well as how to install it on your PC.
Game Overview
This multiplayer robot combat game is cat themed. You'll assume the role of a mean street cat, who's dreaming of becoming the best engineer of war machines world wide. Tony, who's your uncle, decides to enroll you into the car battle championship. You're expected to fight your way up from backyards to the final and become the world championship.
Key Features:
1. Be a Master Engineer
You'll be sorting through collections of parts to find the ones that can make the strongest vehicle and then fuse them carefully as you craft, design, upgrade & improve your ultimate battle robot. You're not always going to emerge victorious, but losing and winning are normal parts of life, and makes CATS to be even more interesting.
2. Free to Play
CATS: Crash Arena Turbo Stars is a free to play game, but you can always purchase gems with real money. Gems can be used to buy additional boxes, which contain new parts as well as other supplies. Due to the fact that what's in the box is a crapshoot, this is definitely not a game that you can easily buy your wins in. Having all the parts won't help you if you can't put them together wisely- CATS is all about clever engineering.
3. Excellent Graphics
When it comes to visuals, CATS features terrific & warm 2D graphics, which can be compared to what you've seen in the best animated TV shows. The war machines move exactly how you'd expect, given their center of gravity, size, wheel and material. You'll love the rich 2D animation when playing CATS on your Windows 7/8/8.1/10/XP or MAC PC.
4. Automatic PvP Online Battles
CATS is an asynchronous multiplayer game, which can only be played online. The machines fight automatically and the final results are based on real-life physics. When you win a fight, you're rewarded with supply box with new part that you can use to craft an unbeatable fighting robot.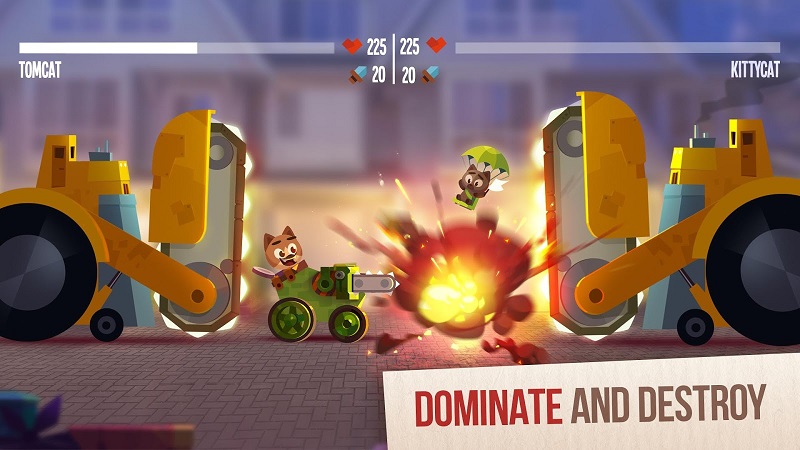 Other Features:
Your opponents don't have to be online to participate in battles
The game is easy to play- You just need to build your fighting machine, sit back and watch as it battles other machines
You can watch, share & learn from the best fights.
The game features dozens of crazy weapons, gadgets & body shapes which you can use to design unique & powerful robots that will let you outsmart your rivals.
Cats- the drivers of war machines don't die even in defeat. They are always whisked away by a parachute the vehicle blows up underneath them.
You can bet on fights using spare parts and use the bonuses to improve your weapons.
It features pleasant background music that will keep you from rushing to mute.
There are 24 stages that you'll have to beat to be the champion.
Conclusion
Overall, CATS: Crash Arena Turbo Stars is a great & entertaining game. It's suitable for viewing and playing for the whole family. Anyone can play as everyone watch. This can even be more interesting if the game is installed on desktop or laptop. Do you think that you have what it takes to make your opponents bite the dust? Test your skills by downloading CATS: Crash Arena Turbo Stars for PC on your Windows 7/8/8.1/10/XP or MAC OS.
How to Download and Play CATS: Crash Arena Turbo Stars on PC:
Download & Install Bluestacks. Alternatively you can use andyroid or ipadian.
Register new or connect your old Gmail/Google Play account.
Go to search box in bluestacks and type "CATS: Crash Arena Turbo Stars"
Click "install" button next to the game and wait for the download to complete.
That is it! Enjoy CATS: Crash Arena Turbo Stars on your desktop/laptop PC!
CATS: Crash Arena Turbo Stars Trailer
About CATS: Crash Arena Turbo Stars
Developer: ZeptoLab
Official Site
If you liked this post, don't forget to rate and share. Also if you can't run CATS: Crash Arena Turbo Stars on PC or any other issue, write in the comments below and we'll help you.