In the world of Fallout: Shelter, you can never have enough caps and lunchboxes. Last week we write about Top 5 Tips and Cheats for Fallout Shelter, go check it out first.
As the only game currency, caps serve as your payment method for upgrading your vault and the rooms in it, whereas lunchboxes award you with four rare and helpful cards. Here is a quick guide on how to get those desired objects – fast!
Earning Caps
• Completing Quests
We'll start with the obvious – the easiest way to earn caps is by completing your in-game objectives.You can check your progress on them by opening your Pip-Boy and clicking on the ribbon icon.
Remember – the harder the objective in question is, the more caps you earn as a reward.
• Exploring the Wasteland
Among the more lucrative tricks for getting caps is to send one of your vault dwellers into the wasteland. The higher his Luck SPECIAL is, the more likely he is to find some caps.
Keep in mind that your explorer needs to return to the vault in order to present you with his newfound treasure, so be sure to check up on him regularly and bring him back when his heath starts reaching low levels.
• Rushing Rooms
Rushing your production rooms is a decent way to get some extra caps and EXP as fast as possible. As far as tips go, this one is slightly risky – there is a good chance rushing will cause an accident. The amount of caps you earn is related to the risk percent – the bigger the risk, the more caps you get.
• Leveling up Dwellers
Whenever one of your vault dwellers levels up, you get awarded caps equivalent to their new level. This is one of the biggest reasons to check up on your citizens from time to time, as they won't gain any further experience until you acknowledge they have indeed leveled up by tapping on them.
• Selling Stuff
As you gather more and more armor and weapons you don't need, it's usually a good idea to sell them for extra caps.
• Destroying your rooms
Destroying your rooms is a different story and usually an act of desperation, but sometimes you just really need the money. Keep in mind you won't be able to get the full value of the room when you destroy it, but you do get a significant amount.
• Opening lunchboxes
Lunchboxes can give you good amount of caps, usually between 50-500. The problem is that lunch boxes are a bit hard to get.
Continue reading below our tips for getting Fallout Shelter lunchboxes!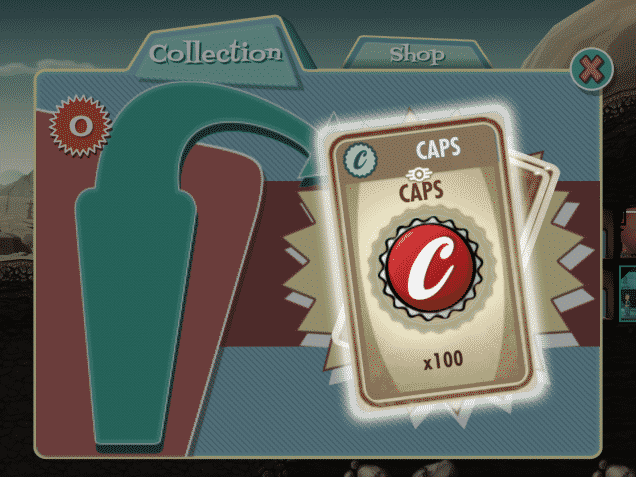 Getting Lunchboxes
As we've already established, lunchboxes and the cards hidden in them have a lot of value in this game. If you're lucky, sometimes you'll get one of them for completing a particularly difficult objective, but there is also a couple of other ways to obtain them:
• Completing Quests
Pretty self explanatory. Harder quests have a chance to give you lunchboxes! You will get them everyday, depending how much you play the game.
• Exploring the Wasteland
When you send dwellers for longer time in the Wasteland, you have a chance to get a lunch box. Your dwellers must be heavy geared and leveled up.
• In-App Purchases
Every once in a while, the call of those random cards you get in a lunchbox might just become irresistible.
Spending real money is pretty much the easiest way to obtain a lunchbox, and they are not even all that expensive. Plus, you will be supporting the developers of this awesome game!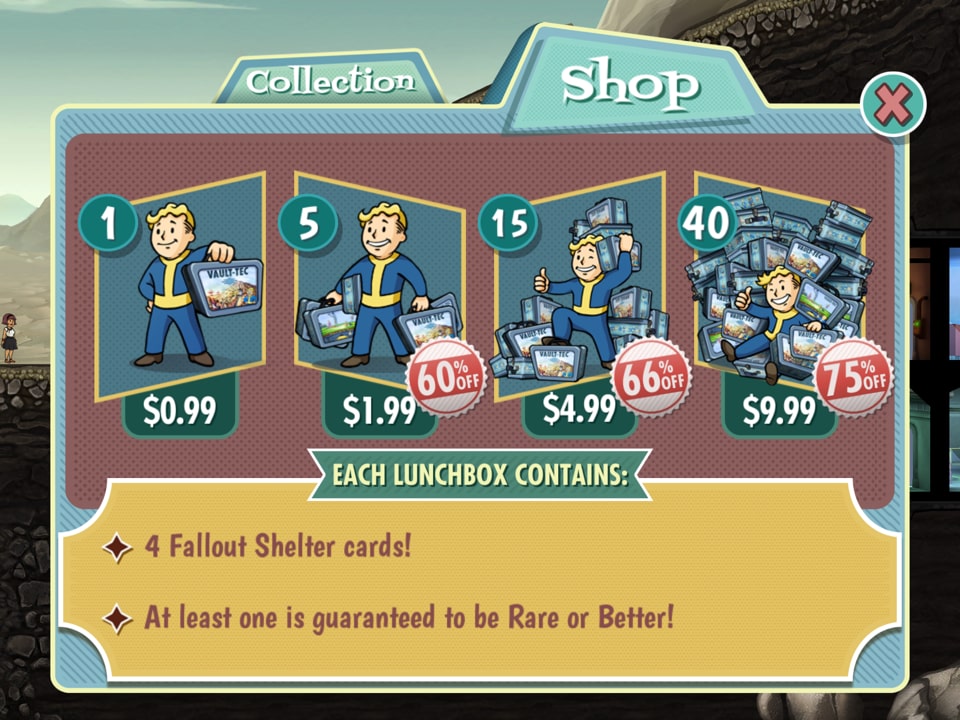 • Playing for Seven Days Straight
That's right! At the end of every seventh day you spend in the game, you get a free lunchbox for your trouble.
Sometimes the most obvious methods are also the most rewarding.
How to get more Fallout Shelter Caps (Video)

Fallout Shelter Tips! #5 How to get more Caps
Subscribe to TheAdiposeTV
Fallout Shelter Getting Lunchboxes Exploit Glitch | Free Lunchbox Cheat Trick
Fallout Shelter Free Lunchbox Trick!! Infinity, No cheat, No Jailbreak | Fallout Trick & Glitch
Subscribe to Duck RubaDub
If you liked this Fallout Shelter – How to Get Caps and Lunchboxes guide, don't forget to rate and share. Also if you have other cheats, tricks or tips leave a comment below.