Are you a fan of Dragon Ball series?
If the answer is yes then brace yourself, for Brandai Namco has returned with yet another game based in the Dragon Ball Universe. As the newest entry to the series, Dragon Ball Z Dokkan Battle fulfills all the expectations!
The new Dragon Ball game combines engaging story with some really rewarding gameplay. The style of the game should be fresh yet familiar to all Dragon ball fans, as the likes of Goku, Vegeta, and Piccollo all make their appearance. Since Dragon Ball Z Dokkan Battle is really worth playing, we decided to offer you eight tips, tricks and cheats to help you get the most out of this game.
1) Fight Creatively – Link Skills
As mentioned, the game comes makes a unique approach to its gameplay by combining fighting experience with traditional bubble-matching game style. Fighting might seem complicated at first, but it all comes down to few basic tricks. We're here to teach you these.
First and foremost, when the battle is on its way, be sure to strategically set up your team formation. Each character under your control has a different set of skills and learning them is of a crucial importance when planning for battle. Also, the order in which your characters are positioned will provide Link Skills that give your attack a special boost.
Learn the Link Skills – they're certainly worth your time!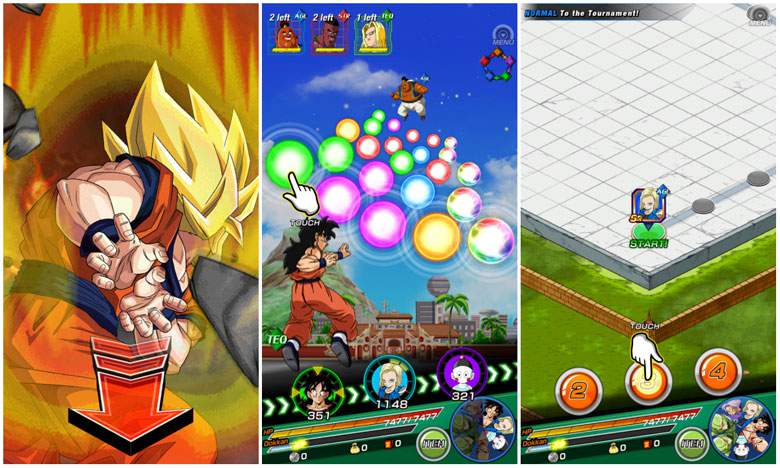 2) The Ki to Win
Filling up the Ki meter should always be on your mind when playing Dragon Ball Z Dokkan Battle! Ki is used for launching some of the most powerful attacks in the game.
You might also want to pay close attention to the different colors of orbs that your characters use, as well as the fighting styles that go with them. This may help you regain some health and get the double Ki that you can use for powerful Ki Bursts.
3) Offence
We cannot overstate the importance of your first strike; it can be crucial in the final outcome of the battle. To ensure that your first hit is successful, always use the color type that is stronger to that of your opponent's.
4) Defense
Who doesn't enjoy obliterating their enemies in a single, powerful stroke?
Yes, we know.
But in Dragon Ball Z Dokkan Battle defending should not slip your mind.
As with attacking, the order of the characters is very important while defending as well. Try to position your stronger defending character in front so that he could absurd the incoming attack; it will reduce the damage taken. Again, try not to focus on your attack only, because the way you defend is just as important as to how you attack.
5) Observe the Timeline Regularly
Planning for both attacking and defending is made possible by the battle timeline. Be very adamant in focusing on it regularly and you'll be able to predict the incoming attacks and react accordingly. Battle timeline may also help you in predicting any Link Skill attacks.
6) Train Your Characters Wisely
In Dragon Ball Z Dokkan Battle, all of the playable characters come with the maximum level they can reach. After you've reached the maximum level by training, these characters can be Awakened by using special items and their stats will increase considerably. Piccollo can, for example, reach the maximum level of forty.
Our tip here is that you focus on training the lower maximum level characters – those whose level cap is twenty. Train them by using training items scattered throughout the game. While training your hero however, make sure to have another character as training partner at his side at all times.
7) Mix up the Team!
You don't want the fight to be boring, do you?
In Dragon Ball Z Dokkan Battle, it is always better to bring the versatile crew to the battlefield. When choosing which character to bring to the fight, we would strongly advise you to bring one of each of the five types. The sixth fighter slot is entirely up to you so choose it according to your preferences.
8) Replaying the Levels Isn't Such a Bad Idea
Once you've finished a level, you might want to consider returning to it and replaying it with a higher difficulty setting. There are three of them: Normal, Hard, and Z-hard (no Easy here). Replaying each stage with a higher difficulty will bring you considerably more experience points and much more ludicrous rewards.
About Dragon Ball Z Dokkan Battle
Official Website
Dragon Ball Z Dokkan Battle - IOS/Android - Battle on Smartphones!
Does the game appeal to you after we've covered these eight tips and tricks? If it's still a bit complicated, don't worry, you'll become increasingly better at the game the more you play it. We hope that we managed to help you understand the game's mechanics and therefore increase the joy of playing it!
If you liked this strategy guide, don't forget to rate share and comment. Also if you have other Dragon Ball Z Dokkan Battle cheats or tips leave a comment below.