When was the last time you've had an epic dungeon battle? And when was the last time Big Fish Games have disappointed with a game? If the answer to both questions is similar to 'not for a long time', then prepare to venture on an ultimate RPG experience with Dungeon Boss!
A game that revolves around gathering powerful heroes and leading them into epic battles against equally mighty foes, Dungeon Boss is sure to hook you in no time. Here are 8 tips, tricks and cheats that will help you fight like a boss!
1) Boss the Elements
When fight in the game is concerned, the first thing you need to learn is to master the elemental forces.
Each hero comes with an assigned color, and these are not purely decorative. Rather, the colors are there to tell you about the strengths and weaknesses of your opponent.
To keep it simple, the game relies on the well-known paper-stone-scissors mechanics. Only a few tips to remember here: Red is stronger than Green, Green than Blue, and Blue in succession beats Red, while Yellow and Purple are mutually exclusive – they overpower one another.
2) Use XP Potions Smartly
Dungeon Boss encourages you to drink all the potions dry, since there are a great number of them to be newly found. But, while it might be rather tempting to use lots of potions early in the game, don't! Save them for later!
When you summon new heroes (and you'll be summoning quite a few of them in this game), they usually, but not always, start at the level 1; and they're going to need all the potions you can stuff them with in order to level up quickly. Therefore, resist the temptation to gulp all the potions you carry, and spend them on newly summoned heroes – they'll be more than grateful.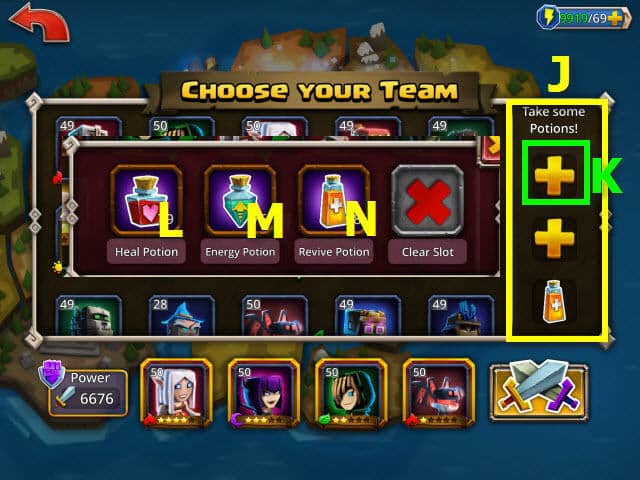 3) Create Your Team
You'll be managing lots and lots of heroes in this game and it is extremely difficult to max them all out. Instead, the thing to do here is to choose a core group of heroes that will be the strongest, most versatile party you can create. Since defending your dungeon is perhaps more important than clearing a new one, use your core heroes to that purpose.
4) Replay the Stages
If however you are resolute to level up all your heroes as much as possible, then a way to do this is to pay often visits to already cleared stages. Replaying the levels you've completed shouldn't be a problem, since you return to them with your heroes leveled up.
You'll be grinding a bit, but it'll be worthwhile. And besides, you can use Auto Battle feature if the battle outcome is certain. We certainly recommend it!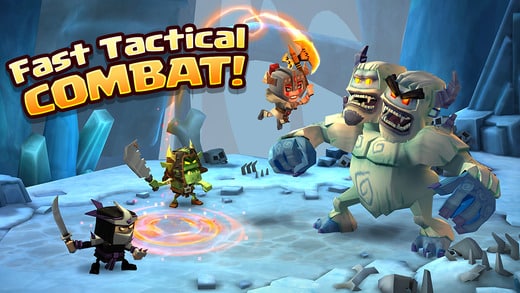 5) Hunt the Evos
If you encounter any Evo creatures along your path, shoot them first and ask questions later!
Evo creatures are needed to ascend (level up) your hero and they are of more use to you dead than alive. They appear randomly and are rather fast, so don't hesitate to tap the hell out of your screen whenever you spot one!
6) Target the Weaker Enemies First
The battles in Dungeon Boss, being turn-based, offer a decent challenge to your strategic faculty. Be not afraid though, we've got you covered on this!
One very useful trick when it comes to battles is to wipe out the weaker enemies first, and then save the best for the last. Also, if there are any healers strutting about among enemy lines, make sure to eliminate those first. You don't want them undoing any damage you've dealt so far.
7) Go Easy With Your Special Abilities
There are games where you cannot wait to release the might of your special ability and see your enemies drown in their own mud; and there are ones like Dungeon Boss, where prudence and tactical awareness is to be cherished.
In this game, all the special abilities have their own cool down period; you should be careful not to run into a boss battle while most of you special abilities are on hold. Instead, use them lightly and only show your true power against opponents who deserve the glimpse of it!
8) Turn to Your Friends If You Need Help
The battles in Dungeon Boss can be overwhelming at times. That's why you should always keep one finger online to call in reinforcements when the pressing need arise. Just make sure that you don't need any help when you play Epic Dungeons, since no friend help is allowed there.
Dungeon Boss Gameplay Android/iOS | Help for Charity
By downloading the game from nickatnyte's video you are raising 1$ for charity.
About Dungeon Boss
Developer: Big Fish Games
Official Forums
These are the 8 tips, tricks, and cheats for Dungeon Boss. Now pick up your device and show them just who the boss is!
If you liked this guide, don't forget to share. Also if you have other Dungeon Boss cheats, tricks or strategies, share them in the comments.