Download Seven Knights on PC (Windows 10, 8.1, 8, 7, XP computer) or MAC APK for Free
If we would have taken each gaming industry and compare them, when it comes to the depth and complexity of the story, mobile gaming would have probably ended up in the last place. But, there's reason for that and that is the lack of time. Most of the people who play games on their smartphones do that to kill some time while waiting for the bus etc.
But it seems like this doesn't count for the latest game developed and published by Netmarble, Seven Knights. To be honest, when it comes to the story, Seven Knights could go hand to hand with some decent RPG titles for PC. So it's not surprising at all that this game has so many satisfied players and high rate on Google Play Store.
This game takes place in a world where a god of destruction got bored and suddenly decided to split himself into dozen pieces. But, the thing is that they aren't all at the same place. Seven of them had fallen to the Asgard and the location of the rest in unknown.
Then we meet a new god, a goddess to be more precise, Ellena. She's a little bit more rational and decides to use her power for the good purpose. But you are probably asking yourself what did she do exactly. Well, she gave the power to the hero who is capable of saving the world by stopping the war from happening.
The next thing you should do is go through the tutorial. No, seriously, don't skip the tutorial. Seven Knights has a pretty complex story so if you decide not to follow it, you will probably feel a bit lost. Another twist is that game starts as a retrospective before the actual story starts.
Gameplay
In order to progress through the story, you will have to do a series of quests. But if you start to feel that the story is going to slow and quests are too hard, there are solutions for that too. These solutions are daily, weekly and monthly offers that can speed the whole process up.
This game currently offers seven classes all of which are different except all-rounders that can play multiple different roles. Each unit has two abilities that can be active. Also, those abilities can be upgraded as you get stronger.
But, not only abilities can be upgraded, the character can get stronger too. You can upgrade your avatar by equipping him with the armor and all kinds of weapons. Also, when you reach level 10 on you account, you can purchase buffs for each character in you roster.
When it comes to the graphics and the design, it's clear that developers have put so much effort in this game. They simply wanted to show that they're ready to step up and make something new in this genre. Also, everything from the environment to the characters is extremely detailed and looks so good. They haven't ignored the sound too, to be more precise, they invested a lot of time and money in sound effects too.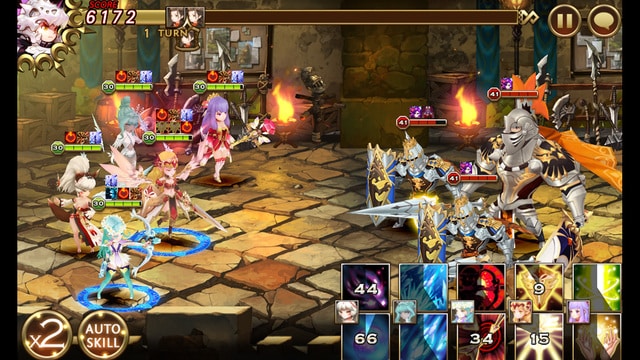 Features
Stunning graphics
Great sound effects
Complex tactics
Collect and upgrade characters
Various game modes
System Requirements
You can play Seven Knight on a device with iOS/MAC, Android or Windows.
How to Download and Play Seven Knights on PC:
Download & Install Bluestacks. Alternatively you can use andyroid or ipadian.
Register new or connect your old Gmail/Google Play account.
Go to search box in bluestacks and type "Seven Knights"
Click "install" button next to the game and wait for the download to complete.
That is it! Enjoy Seven Knights on your desktop/laptop PC!
Seven Knights Trailer
About Seven Knights
Developer: Netmarble Games
Official Website
If you liked this post, don't forget to rate and share. Also if you can't run Seven Knights on PC/MAC or any other issue, write in the comments below and we'll help you.