1. A High Level Layout Offering Great Protection for Heroes and Resources
What's great about this massive defensive base layout is that it is very versatile: every angle is covered by Walls, Hero troops sit safely within the defenses, and Bombs are strewn strategically at various points were enemy troops are likely to clump up.
Also, Gold and Elixir storages are very well protected.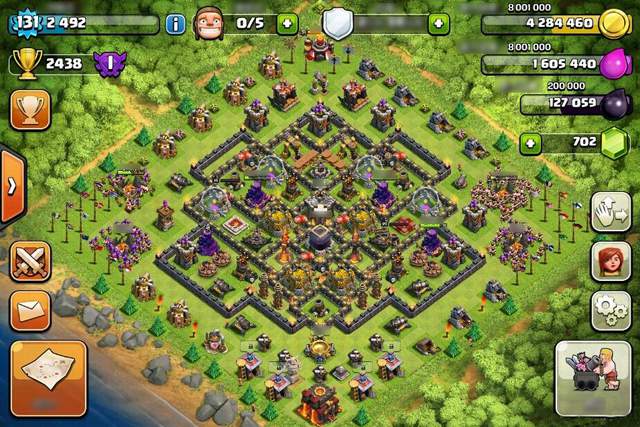 2. A Town Hall lv9 Clan Wars – Hybrid Base
This is a great layout to use during Clan Wars. All the Hidden Tesla Towers are placed near the Town Hall, where they provide a really shocking surprise to the already weakened enemy troops.
Weakened, of course, by all the other Defensive Structures tucked away behind the Walls.
3. An Ultimate Town Hall 7 Trophy Base Layout
A great layout for trophy hunting players with the currency to afford it.
The way the Walls are placed ensures that you can make the most of your Cannons, X-Bows, and Mortars, which will mow down enemy troops before they can do too much damage. Hidden Tesla Towers and Mortars are within range of your Town Hall, which is always nice as well.
4. A Town Hall lv8 Village Layout – Good at Protecting Your Gold Storage
If all you want to do is protect your Gold Storage, this is the perfect layout for you. The Town Hall is reasonably protected behind one row of Walls, but the Gold Storages are located at the very heart of you base, protected by all your Mortars and Towers.
Also, the Army and Resource Buildings will do their part in slowing down the enemy forces.
5. A Symmetrical Base Layout – Town Hall 7
The first thing you'll notice is that the Town Hall is located outside your Walls – a risky move indeed, but if you place some Hidden Tesla Towers and traps you could set up quite a surprise for an opponent looking for an easy victory.
This layout is best suited to protect your Gold or Elixir Storages, so make sure you focus your main defenses on that particular task.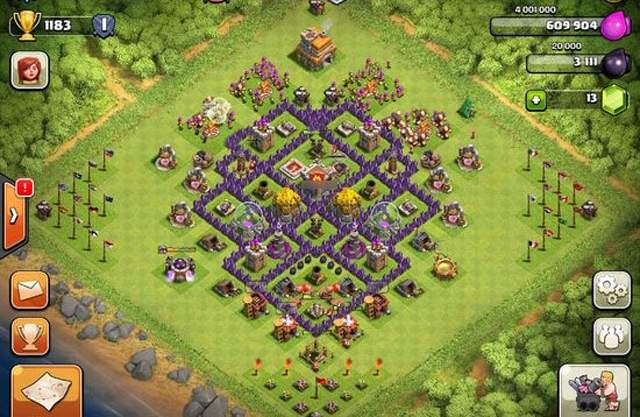 6. A Town Hall 9 Farming Base Layout "The Diamond"
This one, as well as the following layouts, are probably best explained in their respective videos, so I'll leave you with that.
7. A Town Hall 8 Layout – Anti-Hog Anti-Riders and Air Troops
8. A Town Hall 8 Defence Winning Trophy/Clan War Base Setup
9. A Town Hall 9 Farming Base – Safe Loot
10. A Town Hall 9 "Anti 2 Stars" War Base
About Clash of Clans
Developer: Supercell
Official Website
If you liked this base layouts guide, don't forget to rate and share. Also if you have other Clash of Clans tips, tricks, layout suggestions share them in the comments below.