Boom Beach is another great game created by SuperCell besides Clash of Clans and Hay Day.
You'll quickly grow and build your very own military bases, defending them from enemies, and attacking other players' personal war camps.
Below I will present a few tips that will help you when you're starting out.
Battle Basics
– You have to understand how to manage your troops and win the battles
– You should attack the main headquarters of your enemy. Focus the majority of your military units on this building.
– Scout your enemy before attacking. This will give you the exact location of the headquarters and it will also help you alter your battle plans.
Protect Your Resources
– When you get attacked the enemies will take the resources you have if they are able to overcome your defense.
– This is why you should invest in a vault which will protect your gold, stone, iron and wood.
– Gold and resource boats carry the resources when you are attacked so you should acquire some of them too.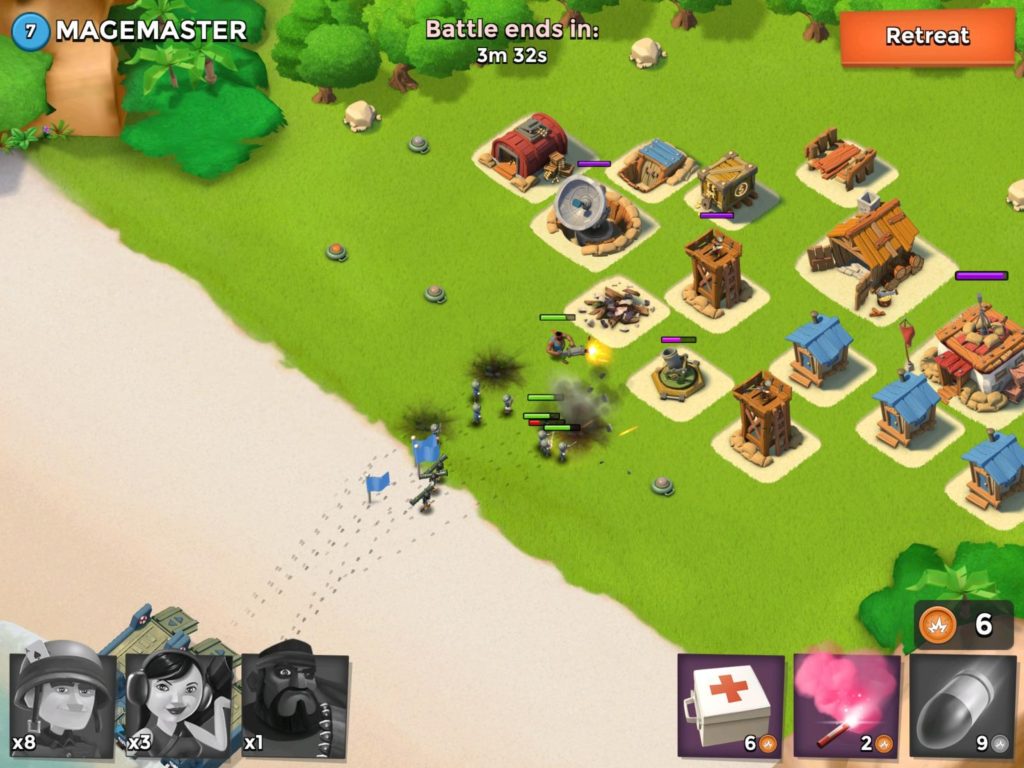 Troops
Below you'll find out the troops you'll send into battles.
– Rifleman – used for overwhelming enemies. Sending a big amount of these troops will annoy the enemy. They will have a hard time to wipe them out.
– The heavy troop class are good for taking damage but they have low amount of damage. It is recommended to place them in the front line of your attacks.
– Zookas take the most damage and deal the most damage in this game. Should be sent behind the heavy troops to protect them.
– Some Riflemen with some Zookas and few Heavy troops should make you a winner most of the times.
– Tanks can get some mega firepower but they will take extra damage from cannons, boom mines and boom cannons. They also require extra gunboat points to deploy.
– Warriors are good for their healing abilitie, damage and speed. Warriors with proper smoke placement is deadly.
Boom Beach Android/iOS – 69 Cheats & Tips – Beginners Guide
Boom Beach New Player Basics – From lv.1 Video Series
About Boom Beach
Developer: Supercell
Official Website
If you liked this guide, don't forget to rate and share. Also if you have other Boom Beach cheats, tricks or strategies, share them in the comments.