Cooking Fever is a time management game that tests your ability to work under pressure. With RPG-style upgrades, frenzied action and fresh visual effects, the game stands out from other cooking games out there.
In this game, you are supposed to prepare all sorts of food items and serve them to your customers. You have to make profit and grow your business for you to win the game.
If you are new to Cooking Fever, you may need a guide or walkthroughs to learn how to play it. As you continue playing, you will need some new tips, tricks and strategies to help you get more gems and coins.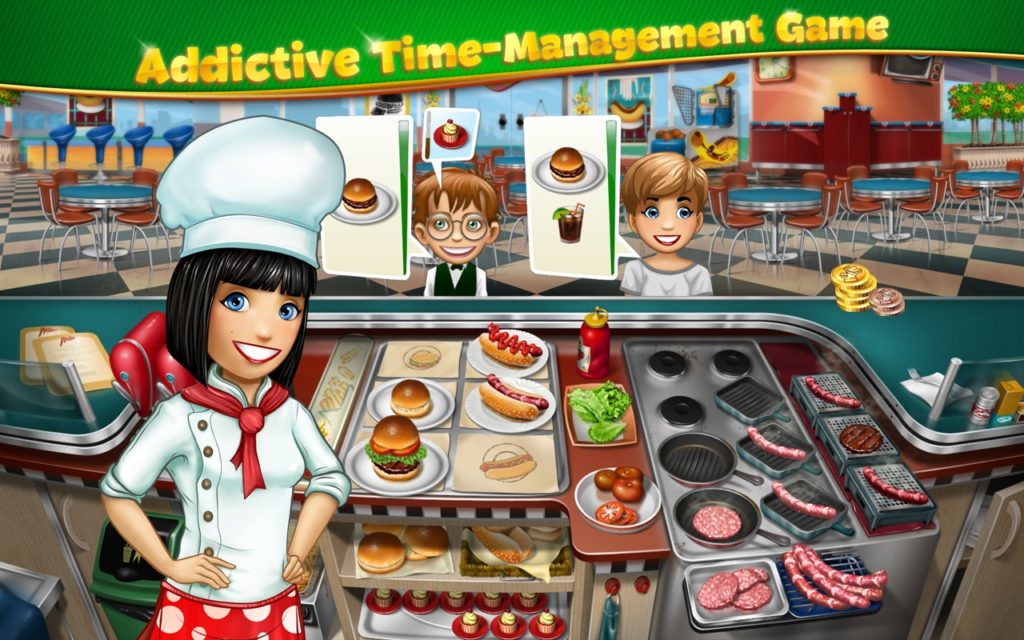 Learn how to get better at Cooking Fever with the help of this game guide. Here are 6 tips, tricks and cheats to help unlock your gaming potential and earn more gems, coins and other valuables.
1. Prepare Your Food Earlier Enough.
Have some of your food items ready before customers start flocking your restaurant. Customers doesn't complain about pre-prepared food, and there are warmers to keep the food at the right temperature.
Whether you cooked it an hour ago or 5 minutes ago, you earn the same amount of coins.
Drinks refill on their own, so you should not be worried about preparing them in advance. At the start of the game, you will have limited cooking equipment for food items like hamburger and hot dogs. These are the kinds of food items you should prepare before customers start coming in.
Tip: Reduce customer waiting time to level up faster and earn more gems and coins.
2. Upgrade Your Kitchen.
You will have an opportunity to upgrade your kitchen when you are done with level one. The aim of upgrading the kitchen is to increase the cooking capacity. With upgrades, you will be able to cook multiple food items at once.
Use the cash you have earned so far to buy more efficient cooking equipment. You can also sell the old equipment and use the money to do the upgrade work.
3. Upgrade Your Restaurant.
The purpose of upgrading your restaurant is to make your customers comfortable and happy.
Cooking Fever has 8 restaurant locations: Breakfast Cafe, Fast-Food, Bakery, Sushi, Pizzeria, Chinese, Indian and Chinese. Install new barstools, tables, televisions and disco balls on all these locations.
The reputation of your restaurant will increase with each upgrade. Your customers will tip you, talk about your restaurant to other customers and widen your customer base.
4. Replay Completed Levels.
Revisit levels with low scores and aim to get maximum scores from them. You will earn additional gems and coins which you can use to upgrade your kitchen and restaurant. You can also earn gold stars and experience points which come with bonuses.
5. Increase Your Food Prices.
This is a great strategy especially if you are not getting enough coins in the game. Your customers may not like it, but it is a great way to keep your business running.
6. Understand Customer Facial Expression And Mood.
In Cooking Fever, customers can be happy, concerned, sad or angry.
There are a number of things that can affect the mood of your customers, including waiting time, food quality and restaurant decor. You should be able to understand their mood and act accordingly.
Tip: Keep your customers happy and they will make your restaurant their preferred destination. With many customers, you will level up faster and earn more gems and coins.
Cooking Fever (Android/iOS) – Unlimited Free Gems and Coins Cheat Guide
About Cooking Fever
Developer: Nordcurrent
Platforms: iOS | Android | Amazon
Official Website
If you liked this guide, don't forget to rate and share. Also if you have other Cooking Fever cheats, tricks or strategies, share them in the comments.