Who doesn't like the Wild West?
I think that the only ones who don't like the concept of cowboys and adventure are the ones who haven't seen "Cowboys & Aliens", "Indiana Jones", "Wild Wild West", "Vera Cruz" and many other cowboy movies. On top of all of those cowboy movies there are some pretty decent cowboy games out there, like "Red Dead Redemption" and others that didn't quite get the publicity that they deserved.
One of those is the mobile strategy game Compass Point: West in which you order a few unique troops in the dirty old west, destroying other bases as you expand your territory. The goal is to stop the villain, Orville Driller, but you will pretty much forget about him a few minutes into the game, trust me.
While the Compass Point: West is really good, it doesn't have specific quests, or objectives that you have to complete and the tutorial is pretty much lacking, so you will need a few cheats in order to speed up the process of getting used to the game.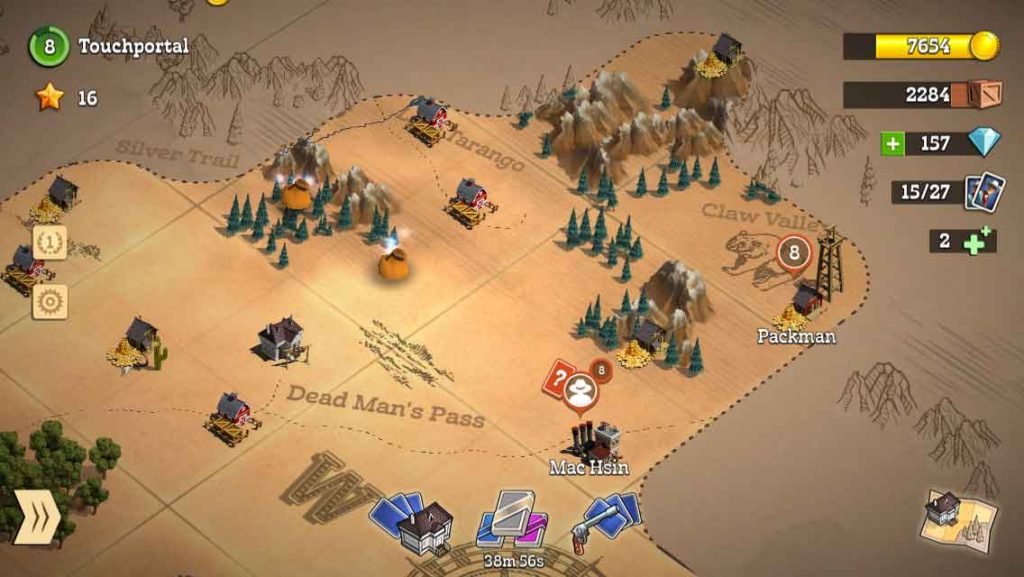 1) Cards, Cards, Cards!
There are things that you need to know about this game. It's not a strategy like any other where you buy troops, use them for a fight and they disappear afterwards for a reason or another. No, in this game all of your troops, or sidekicks are represented by Battle Cards.
They can fall into seven categories : Gunslingers, Tin-Man, Forty Niners, Gatling Guns, Shamans, Mercenaries and Rangers.
Getting a high number of troops is easy but getting the ones that you really need, that is all up to luck. Or Silver and Gold card packs.
Even your town has cards that you can use in order to guard upgrades, exchange for gold and goods, or speed up your building. We suggest that you use those cards as often as possible, considering they help you out a lot in the process of building your town. The ole' west isn't a nice place to live in after all, so take all the precautions necessary.
As you progress in the game, your simple sidekicks aren't going to be strong enough and you will find yourself losing, despite having many troops and a good tactic. This is where the unique aspect of the troops comes into play, created and implemented perfectly by Compass Point: West, showing us that the card system actually has a purpose, instead of having every troop as simple buttons on a drop-down bar.
Not only are the cards aesthetically pleasing but they help you visualize how your troops change. That's right, your troops can evolve using one simple "cheat" provided by the game itself. Whenever you have four troops of the same kind, you can combine them in order to create one stronger troop, in the same category. It's basically just an evolved version of the previous troop.If you need an example, here is one : Four Gunslingers are merged and they all become one Rugged Gunslinger.
2) Rally Flags and Forts
Let's leave all the technicalities aside and focus on what matters in this game, and that is the combat.
There is nothing more satisfying than seeing your own cowboys wreaking havoc in a nearby town, destroying buildings and camps. But, in order to direct your troops to a specific place, you would use the rally flag by tapping on the icon of the flag in the lower right corner before tapping somewhere on the screen where you want your sidekicks to move to. They will follow the flag, but unfortunately you can't choose what they attack, as they will attack whatever is closest to them.
The rally flags are limited, so we suggest destroying buildings and camps, from which you get battle points that allow you to send even more troops into battle.
We mentioned that the rally flags are limited and that you need to destroy buildings and camps in order to get battle points, but you should keep a close look on your fort because that building will be your savior. With the help of the fort you will have more battle points and more rally flags for the battles in which you need a lot of troops all at once.
3) The Saloon
Every single cowboy movie has a scene or two in the saloon, so a cowboy game couldn't afford not to implement the iconic building in some form. In Compass Point: West, here is where you draw new cards and you get to organize your sidekicks.
Not only that, but if you upgrade the saloon, you unlock brand new types of cards and card packs; so you should focus on it.
4) Extra Closed Card Draw? How?
On the map, some enemy towns have a symbol of a card that has a question mark next to them. Win the battles against those towns and you will receive an extra closed draw of cards.
Compass Point: West Guide and Review
First look review and tips by nickatnyte
Platforms: iOS
That's all that we can tell you about this western-themed game. Don't worry, it's not cheating if a tutorial isn't provided. Now how about a duel during the sunset, cowboy?
If you liked this Compass Point: West strategy guide, don't forget to rate and share. Also if you have other cheats or tips leave a comment below.