Outfit7 Limited aims to keep children entertained with its amazing free app game, My Talking Angela. If you have played games like My Talking Tom, My Om Nom and Tamagotchi, then you can have a clue of the Angela's gameplay. The game in question can run on the iOS, Android, Amazon and Windows devices.
My Talking Angela is very fun and engaging. It keeps your children busy and entertained at the same time. The gameplay is as simple as owning a virtual pet and giving her good life.
If you are just starting to play this game, you may need a guide and a few walkthroughs to start at a higher note. If you already know the gameplay, getting some tips, cheats or tricks can take your gaming experience to another level.
Yearning to get better at My Talking Angela? Well, look no further than this game guide. Read on to find helpful tips, cheats and tricks for this family game. Become a pro by learning the best strategies from this guide.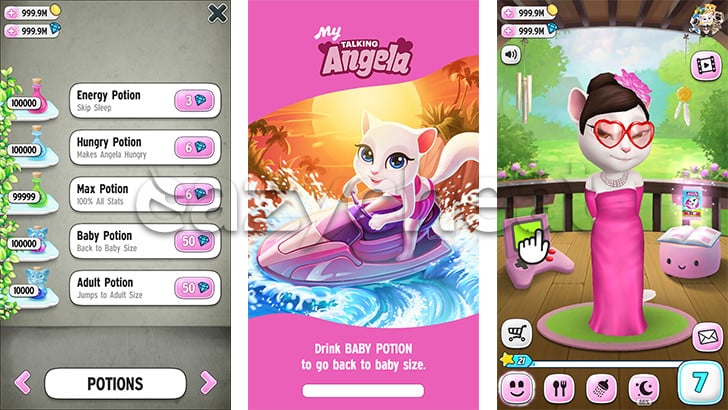 1. Take Proper Care of Angela.
At the initial stages of the game, Angela is usually very young and tender. You need to feed her with milk using a baby bottle. When she grows up, find adult foods for her.
Brush her teeth at least 2 times a day. Also, give her a bath every day. These two tasks will make her happy, enabling you to earn gold coins and other bonuses.
Angela will be able to show facial expressions and feelings. Make use of these indicators to know what she wants or needs. Sometimes she will be able to take to you, making it easier to understand her.
When she gets tired, let her rest. You can put her to sleep by singing lullabies. Angela can sleep forever, so you need to set the time to ensure she gets only enough sleep.
Tip: Sometimes, let Angela sleep for fewer hours than normal to enable you gain unlimited speed boosts.
2. Keep her Beautiful and Fabulous.
Keep Angela dressed up in the best outfits. You can keep in touch with the latest fashion trends to ensure she always gets the cutest clothes. Get her the best accessories and makeup in the market.
Tip: Explore different fashions and create something unique for her.
3. Buy her the Best Accessory.
My Talking Angela provides you with a number of stores where you can buy clothes and other accessories. Spend the least amounts of coins on the accessories, but ensure she is happy with the items.
Some clothes available in the store include ballerina and punk ninja. Makeup includes eyeshadow, lipstick, mascara and hair products. Get accessories that suit her to ensure she remains fabulous.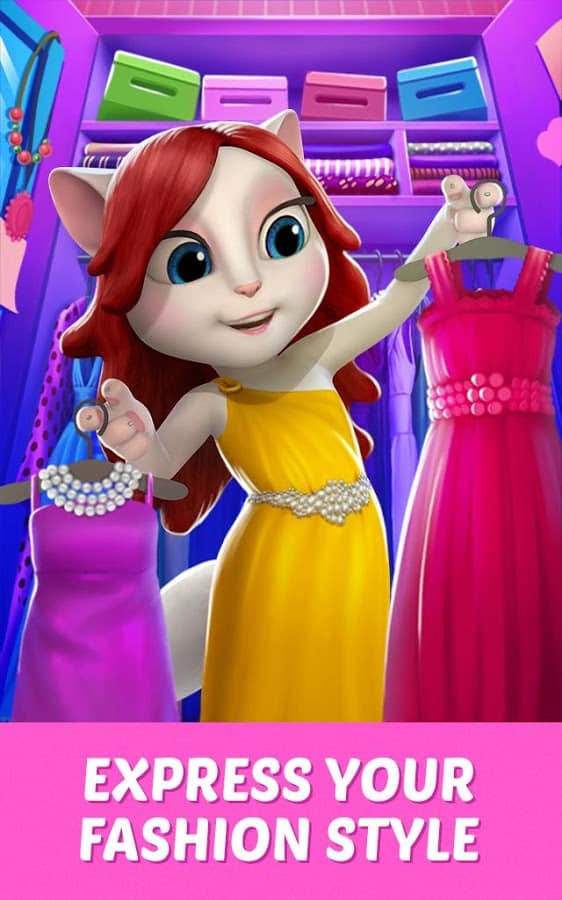 4. Decorate and Furnish her House.
Customize her house to ensure she feels comfortable always. Arrange the house in a way that allows her to enjoy the spectacular views of the surroundings.
You will come across many stickers when playing My Talking Angela. Embed some of the stickers on the walls to make the house as beautiful as possible. Take photos of her and place some on the walls and tables, and put others in an album.
In addition, furnish the house with top-notch furniture. You will earn points at a faster rate when you buy furniture.
Tip: Buy furniture when trying to level up and you will be in the next level in no time.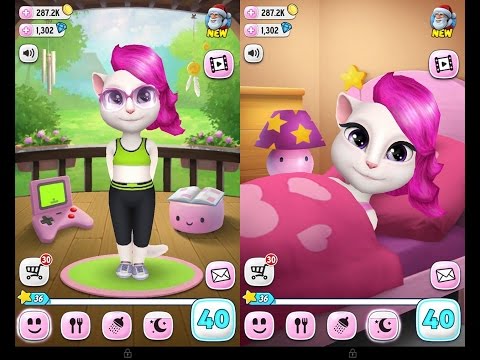 5. Play Minigames and Watch ad Videos to earn Bonuses.
One of the best ways to earn coins in My Talking Angela is to keep playing the minigames. The more you play these games, the more you earn coins.
There are all kinds of minigames in this children game. From Bubble Shooter to Happy Connect, you can play your favorite games and earn incredible amounts of coins.
To gain gems, watch free advertisement videos. The gems are available in the form of diamond.
Hint: Select the smiley face icon, then tap the diamond circle to watch free ad videos.
Diamond is also available with real money or hack tools. You can buy a pile, a bag or a trunk of it with a few dollars. You can then use the diamonds to buy a variety of items which pleases Angela.
My Talking Angela (Android/iOS/Windows) Trailer
My Talking Angela - Official Trailer
About My Talking Angela
Developer: Outfit7 Limited
Platforms: iOS | Android | Amazon | Windows
Official Website
If you liked this guide, don't forget to rate and share. Also if you have other My Talking Angela cheats, tricks or strategies, share them in the comments.